Honda commits to hydrogen fuel-cell EV production deadline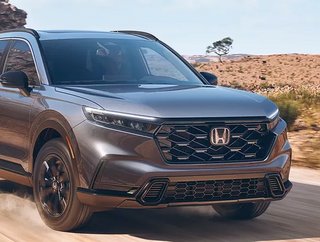 The Japanese manufacturer Honda intrigues the industry with its commitment to production of a hydrogen fuel-cell EV as questions rise around validity
Why are automotive manufacturers looking at electric vehicles (EVs) and not hydrogen fuel-cell cars?

Hydrogen fuel-cell is a decarbonised method of powering vehicles, which results in nothing but the production of water—an element that one would expect to find superior to electricity.

But there are questions around whether the process is necessary as a method of decarbonisation thanks to the growing demand for EVs, therefore, hydrogen could become obsolete.

Although this still raises curiosity, especially when Honda, the Japanese car manufacturer that has already released EVs, is venturing towards hydrogen vehicles as well. It seems the company wants to combine the two and produce a hydrogen-based hybrid vehicle in 2024.

The Honda CR-V FCEV production start date is set some time in 2024 and it seems the carmaker's lack of aggressiveness in meeting electrification trends results in spreading action across both EVs and FCEVs in the future. This comes with the same target—to eliminate all emissions from its vehicle range by 2050.
Is infrastructure available for hydrogen fuel-cell vehicles?
The simple answer is no. The world isn't ready for hydrogen fuel-cell cars from an infrastructure perspective. It seems as though hydrogen has taken a back seat to the EV race.

As of 2020, there were only a little more than 25,000 FCEVs on the road across the entire planet, while in 2022, the EV market has grown significantly, trumping the industry with infrastructure and car sales across Europe, China, and the US.

Nevertheless, Honda has its sights set on making FCEVs, of which the first model will be available in North America, and will be the first in the states to combine plug-in charging with hydrogen technology. It seems the Asian car company is looking to present to the US the opportunity that it has yet to seize.
Hydrogen as a power source for mobility
The technology must be out there. Particularly in other areas of the transport sector as companies like ZeroAvia in aviation are working to develop hybrid hydrogen propulsion systems for aircraft.

As we've heard very little about infrastructure on the roads, perhaps hydrogen's real position lies in aviation and other large vehicle sectors, such as the trucking industry—currently seeing a lot of interest in the use of both EVs and FCEVs.

The benefits of FCEVs are yet to be explored, but as the EV sector grows, perhaps the hydrogen industry will remain for use at a later stage.