ZeroAvia is a pioneer in hydrogen-electric aviation tech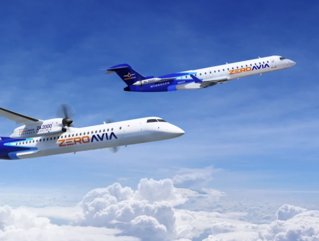 Following more successful investment, Val Miftakhov, Founder and Ceo of ZeroAvia, is excited for the future of hydrogen-electric propulsion for aviation
It's not easy to imagine electric aeroplanes carrying multiple passengers internationally, but perhaps electrification on its own isn't the answer. For many reasons the use of hydrogen has been considered and implemented as a sustainable power source for transportation. Particularly in the heavy goods industry where high range is critical.

Range is also critical for aviation and while some organisations have shared their latest triumphs in electrification, ZeroAvia is taking a different approach and introducing hydrogen to the mix.

Hydrogen electric is the power source for aviation
ZeroAvia is backed by many major investors, including the International Airlines Group (IAG), Barclays, NEOM and AENU. The company was founded in 2018 and within a year it achieved the world's first zero emissions flight of a six-seater aircraft in the US. Since this triumph was announced, the group has secured large amounts of funding, including US$40mn from its Series A round and a total of US$37mn from Amazon, British Airways and other partners.
Announcing its latest investor interest, the company received another US$30mn during its Series B funding to raise US$68mn for the round.
"Each of these star investors brings a unique perspective and strength to ZeroAvia's wider team—from one of the world's biggest airline groups, one of the largest and most historic banks, to the ambitious project to build the world's first zero-carbon metropolis, as well as a pure-play impact investor," says ZeroAvia's Founder and CEO, Val Miftakhov.
"Our new investors are each looking at our journey through a different lens, but all energised by our mission to enable zero-emission flight using hydrogen-electric engines. This is a great recognition of ZeroAvia's leadership in the space, fueled by real, tangible achievements."
ZeroAvia's mission in practical zero-emission aviation
The goal is to eliminate fossil-fuel-powered engines from aviation. ZeroAvia is developing practical solutions that will allow airlines to continue to operate without the need for carbon-intensive products.
The earliest goal for the company is to design and build the first commercial offering of a nine to 19-seater 300 nautical mile (NM) range aircraft by 2024. Following this the company will develop its aircraft in stages to increase the capacity and range of each new model—the latest reaching capacity for more than 200 passengers with a range of 5,000 NM or 9,260 kilometres.
The latest investment from Barclays will catapult the team's efforts much further.
"The aviation industry will require significant and recurring investment in the years ahead to ensure its technological evolution can keep pace with global decarbonisation targets," says Steven Poulter, Head of Principal Structuring and Investments at Barclays.
"ZeroAvia is an innovative, industry-leading aviation business—we are delighted to support its ambition towards zero-emission flight, and look forward to seeing them accelerate change in the sector."
The company developing the world's first net-zero carbon city will also act as a catalyst for hydrogen-electric development as it partners with ZeroAvia in the research and development of hydrogen fuel.
"Aviation will play a key role in supporting our work to deliver a zero-carbon city, and we envisage hydrogen-electric aircraft connecting NEOM to regional destinations and beyond via zero-emission flight," says John Selden, CEO of NEOM Airports.
"From NEOM Bay Airport, a flight to Cairo, for example, will be well within range of a 20-seat turboprop aircraft powered by ZeroAvia's hydrogen fuel cell engine by the end of the decade."