Is audio the new differentiator between electric vehicles?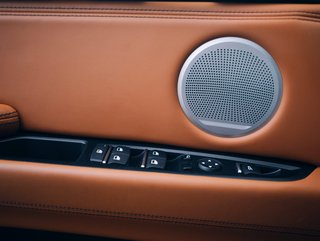 Credit: Getty Images | Dirac delivers new sound system technologies at IAA Mobility, and discussions of audio as the new differentiator between EVs
Dirac announced new in-car audio systems at IAA Mobility, but we're interested to know how car makers will adopt to make silent electric vehicles exciting
For those that may not know the digital audio company Dirac, perhaps it's because the link between electrification and audio isn't the primary conversation happening in the automotive sector. However, audio is one of the main differentiating factors that car makers are now experimenting with as one of the variables between different vehicle models.
Back in the day, cars would be defined based on their engine size, speed, power, and sound—but not necessarily jaw-dropping audio experiences.
This is where Dirac comes in as a supplier to the likes of Rolls-Royce, Volvo, Polestar, Genesis, NIO, and BYD, as premium and luxury car brands switching their efforts towards EVs. Specifically, the company creates immersive audio solutions and introduces multi-channel content to cars like the Volvo XC60 and the Tesla Model Y.
At the IAA Mobility conference, the company showcased its new technologies that will generate more interest in the cabin experience, by leveraging sound and immersive drivers and passengers with products like its Dirac VIRTUO dynamic spatial 'upmixer' technology and the Intelligent Audio Platform.
Simultaneously, the Volvo XC60 will introduce the European market to Dirac VIRTUO's latest version, pushing software capabilities in car audio to new heights. This award-winning software envelops occupants in high fidelity, exceptionally bass-rich sound across all seats, using patented digital sound optimization and spatialization technologies to mitigate acoustic challenges, such as the negative impact of car cabins, unbalanced soundstages, and immersion deficits.
"Historically, automotive manufacturers have been reliant on heavy speakers, placed in specific cabin locations, to achieve premium sound system performance," says Hendrik Hermann, European Sales Director at Dirac. "These large speakers, placed in doors, dashboards, and more, proved proficient in producing high-quality audio, yet ultimately added substantial weight to the vehicle while limiting cabin design possibilities."
He continues: "However, new digital audio algorithms and acoustic treatment technologies are creating a new paradigm for automotive brands – enabling them to use fewer, lighter weight, and more strategically placed speakers to achieve an even better, more dynamic audio quality. This is the future of automotive audio, one that exists today, and we look forward to showcasing it at IAA."
Does the electric vehicle industry lack excitement?
There is definitely a shift happening among car makers and consumers, which is driven by the climate and demand for change in order to secure a cleaner, greener future for generations.
Unfortunately, many generations will not experience some of the great delights expressed by the internal combustion engine (ICE) and the advocates of power, engine sounds, and the overall experience that vehicles provide. But, this is more a conversation for the sportscar sector and racing, whereas businesses delivering more elegant, premium or luxury passenger-cars need not follow the same path.
Many of the premium brands today have accepted this change and begun designing their vehicles for all-electric power, but also for comfort and prestige. While these companies have naturally transitioned to EVs, how will sportscar-focused automotive brands adopt this shift—some of them later to the party with electrified concepts.
Looking at organisations served by Dirac, you can see a natural progression towards digital differentiation. Moreover, new companies entering the automotive market begin their journeys with technology as a priority. In this argument we must look at the likes of Lotus, Ferrari, Lamborghini, and so on, to understand how these businesses will allow their cars to steer into a new era of silent vehicles. The only way for sports car and supercar makers to salvage their signature exhaust sounds would be to invest in the development of hydrogen-based propulsion systems, which are notoriously complex and we've not yet seen this widespread in the industry.
******
EV Magazine is dedicated to creating a global community of businesses, experts, and EV enthusiasts with comprehensive insights into automotive and the surrounding sectors.
For more EV insights check out the latest edition of EV Magazine and be sure to follow us on LinkedIn & Twitter.
You may also be interested in Sustainability Magazine and Energy Digital Magazine.
*********************************************
BizClik is a global provider of B2B digital media platforms that cover Executive Communities for CEOs, CFOs, CMOs, Sustainability Leaders, Procurement & Supply Chain Leaders, Technology & AI Leaders, Cyber Leaders, FinTech & InsurTech Leaders as well as covering industries such as Manufacturing, Mining, Energy, EV, Construction, Healthcare + Food & Drink.
BizClik – based in London, Dubai, and New York – offers services such as Content Creation, Advertising & Sponsorship Solutions, Webinars & Events.