How does UX design ease range anxiety for EV drivers?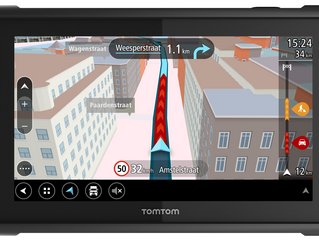 Focusing on TomTom, range anxiety can be reduced as user experience becomes a key component of the overall strategy for encouraging drivers to buy EVs
When we think about user experience (UX) in terms of electric vehicles (EVs), not everything revolves around technology, however, UX design is a critical part of the transition to EVs and must cater for the needs of those switching from internal combustion engine (ICE) vehicles.

UX also provides unique opportunities to maximise the use of a vehicle and how it interacts with the world around it, particularly when it comes to charging. With around 50% of car buyers wanting to make the switch when they purchase their next car, the industry expects an influx of electric car owners—despite the overall decline in the number of passenger cars purchased.

From the calculation of mileage to the charging process itself, a UX design must showcase the relevant real-time data to the driver when needed, and is also a great educator—particularly for those learning the nuances of operating an EV.
Selecting an efficient EV route, whether charging or not
Driven by the software onboard, the dashboard has become an onboard information centre, mirroring the design and functionality of smartphones. As we mention a lot, cars are becoming part of the digital ecosystem, so it only makes sense that they follow suit when it comes to digital display.

Leveraging real-time data allows EVs to double down on efficiency. With some of the most sophisticated maps and traffic updates, cars are now able to tell the driver, accurately, their most efficient routes, fastest travel times, and where they can charge up along the way.

As Christina Yu-Ting Wang, Senior UX Designer at TomTom says: "Having a trustworthy navigation system in your EV is the key to efficient routing, as it will tell you how the battery will be used in real time. This has been one of our major areas of focus when designing the TomTom Digital Cockpit as EV-first."

In the UX design space—and a long standing player in the realm of satellite navigation products—TomTom was previously known for its externally-integrated solutions. Now the company develops solutions for the EV, whether that be a car, bike or truck.

TomTom's solutions received the attention of many major carmakers and vehicle manufacturers in the industry, including BMW Motorrad, Fiat (and other Stellantis brands), Daimler, Subaru, Volkswagen, Toyota, and Hyundai Motor Group.

As a result, TomTom has become a critical organisation for developing the EV experience for drivers, allowing them to successfully charge their cars in line with a schedule that suits them.
EV charging requires an educational piece
The user interface is also a key component for educating new EV drivers. While any driver that can afford an EV is able to buy one, they may not necessarily understand how it works.

Therefore, the UX will determine how well they receive their new cars; the EV user interface can be designed to make the transition as seamless as possible by showing virtually how drivers set up their car for charging—much like when an iPhone receives an update and the new features are displayed upon powering up the smartphone.