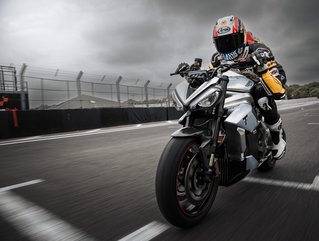 There are still challenges to overcome with EV adoption, but the motorcycle industry has a unique opportunity to leverage sustainable electric power
The e-scooter craze in recent years is a notable innovation allowing cheap, inner city transport to take place on a micro level.
Ever since initiatives like e-scooters and bicycle rentals took over the streets, micro-mobility has become the norm for many city-dwellers. The next big discussion to be had is whether, as another alternative mobility solution, electric motorcycles will become just as exciting as conventionally-fuelled models and, more importantly, how?
The current fuel-powered motorcycle industry is one dominated by engineering heritage and 'petrol head' consumers. Nevertheless, the electric vehicle (EV) industry is willingly accepting motorcycles as a form of transport that could change micro-mobility for the better.
While many of the traditional bike brands—the likes of BMW (Motorrad), Harley Davidson, Ducati and Triumph—are emulating their signature styles, pure-play EV companies like Zero and Horwin are showing off electric capabilities, as well.
Dominating the market still, the motorcycle industry is expected to build upon its revenue total of more than US$124bn in 2021 to reach its forecasted US$180bn by 2031. The EV industry has some catching up to do as it increases its share. Nevertheless, the target has been set for the motorcycle industry, meaning that no more petrol and diesel bikes are to be sold from 2035. In light of this news, we already see the main brands taking advantage of electrification and switching their focus to battery-powered motorcycles.
Will EV take over another traditional industry?
Many would argue, 'Yes'. EVs are in development as decarbonisation takes precedence over the automotive industry and there seems to be no place for petrol-guzzlers. The current market trend shows an increase in the number of electric motorcycles sold, with comparisons against earlier figures (2019 to 2020) showing an increase in adoption.
"All indications are that new petrol motorcycles will have to go off sale in 12 years' time," says Umberto Uccelli, Managing Director for Zero EMEA. "We're already seeing some legacy manufacturers entering the electric space or at least signalling their intention to produce electric motorcycles."
Particularly across EU countries there has been a massive uptake in the registrations of new electric motorcycles with Italy being the largest adopter in that period. The country recorded 1,664 cumulative registrations in 2019, which increased to 5,607 in 2020. Across other countries like Spain, France, Germany and the UK, the trend is the same, but not to this scale.
German motor company BMW is looking to advance electrification through its BMW Motorrad business, which is responsible for the development of its motorcycles. Meanwhile, Triumph is showcasing the development capabilities of its organisation as technology advances its TE-1 prototype. Ducati is also pushing the boundaries of performance with its innovation in motorsport, thanks to its partnership with MotoE to create its next-generation motorcycle.