Fisker's week of automotive excitement and EV announcements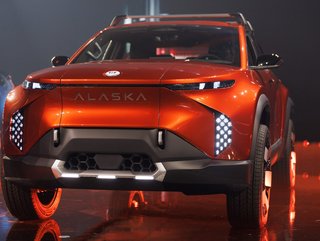 Credit: Reuters | Fisker's unveil of the Alaska model marks a new market entered for the sustainable automotive brand
Fisker released its EV pickup truck to maximise the potential of sustainable electric power as CEO Henrik Fisker looks to compete with commercial rivals
How do you ensure that off-road fanatics and commercial drivers have access to electric vehicles (EVs) that meet their unique demands?
The answer is to electrify utility vehicles and Fisker's latest vehicle announcement focused a lot on the rear of the car as its latest release is an electric pickup truck.

Developing a brand built on sustainability, Henrik Fisker, the company's Chairman and CEO, is a man of resilience and perseverance, having developed EVs previously and failed to meet production deadlines in 2007. Nevertheless, it seems Fisker took a step back to reconvene, which resulted in a more strategic approach to EV delivery and some rather unique-looking designs now entering the market.

Starting with the Fisker Ocean, the company's design attributes present a rugged exterior and environmentally conscious supply chain with plastics and other materials sourced from the ocean and other environments—plucking rubbish for the environment and putting them to good use.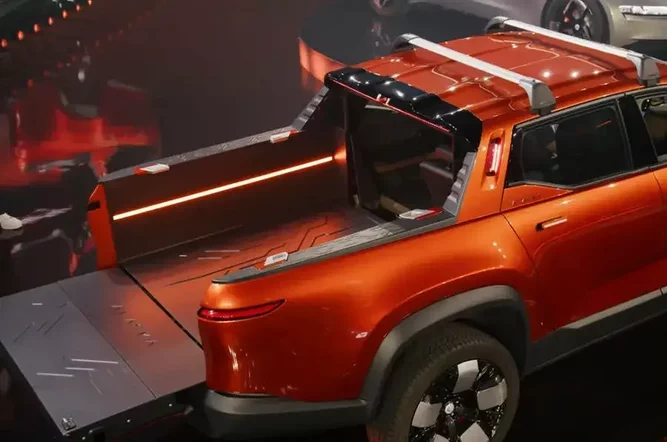 The rear tailgate of the Fisker Alaska model at the release of the vehicle.
A different strategy to launched a pickup EV
The company strives to be the most sustainable EV manufacturer, which resulted in the delivery of its Ocean model, and conceptualisation of the Pear, Ronin, and Alaska. The recently released Alaska model will put Fisker in a space where there are still very few occupants, but this also means competing with the Rivian R1T—a much-loved pickup in the US—as well as Ford's F-150 Lightning and the Maxus T90EV.
So, with a new pickup entering the lineup, Fisker will surely battle with its rivals for its market share, right?
Not necessarily, because Fisker set the Alaska's price point on par with the Ocean model, expected to be sold at around US$45,400 (£36,546).
Under-cutting its rivals in this space will likely make the Alaska a desirable utility vehicle, but with only one car on the market so far, there is time for buyers to mull on their decisions, which would otherwise steer them towards either the two traditionally commercial brands or the leading pure-play manufacturer in the space.
Fisker's motivations behind the design and function of the Alaska pickup truck were usability but also great driving, and the company looks to achieve both in this utility model.
Successful adoption of the Fisker Ocean EV
The Fisker Ocean is such an important model to the company because it was the first to be delivered with fresh eyes on sustainability and performance driven by technology. The company delivered its first 22 Ocean's in June 2023, which was an important milestone for the CEO and the brand.
"We have been waiting for this moment ever since we started the development of the Fisker Ocean in October 2020," Fisker said at the time.
"As a California-based company, we are thrilled that our first US customers are finally getting behind the wheel of the Fisker Ocean and will experience its innovative features, class-leading 360-mile range, and highest levels of sustainability. We're grateful our customers have been patient with us as we dealt with a longer-than-expected certification period earlier this year, and we're happy their patience is now starting to be rewarded."
Not only did this mark a great step in operations for the company, but also a milestone for sustainable vehicle manufacturing. The Fisker Ocean won the hearts of its customers for both its performance and the message that it wears. From an efficiency standpoint, the latest models from Fisker leverage more advanced technologies like solar panelled roofing, Hyper Range Battery that achieves 440 miles of range, and also comes with a dual motor option.
The Alaska, on the other hand, will provide around 230 and 340 miles of range depending on the model purchased and will be a similar size to the oceans—a much smaller pickup truck that its rivals. Zero to 60 will be under five seconds, based on the architecture that already performs in the Ocean model.
******
Further insights can be found on our website or click here to receive our newsletter with a constant feed of new stories every week.
EV Magazine is dedicated to creating a global community of businesses, experts, and EV enthusiasts with comprehensive insights into automotive and the surrounding sectors.
For more EV insights check out the latest edition of EV Magazine and be sure to follow us on LinkedIn & Twitter.
You may also be interested in Sustainability Magazine and Energy Digital Magazine.
Please also check out our upcoming event - Sustainability LIVE in London on September 6-7 2023.
BizClik is a global provider of B2B digital media platforms that cover Executive Communities for CEOs, CFOs, CMOs, Sustainability Leaders, Procurement & Supply Chain Leaders, Technology & AI Leaders, Cyber Leaders, FinTech & InsurTech Leaders as well as covering industries such as Manufacturing, Mining, Energy, EV, Construction, Healthcare + Food & Drink.
BizClik – based in London, Dubai, and New York – offers services such as Content Creation, Advertising & Sponsorship Solutions, Webinars & Events.