Fisker Ocean's first LCA report details sustainable impact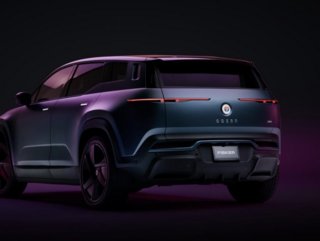 The Fisker Ocean strives to be the most sustainable EV for the right reasons
With sustainability at the core of its business, the Fisker Ocean was built on circular principles and is proven by its life-cycle assessment report
At first electrification seemed like just a phase. While there are still many things to be addressed, electric vehicles (EVs) pave the way for more sustainable automotive designs. You've only got to look at the most recent market entrants to understand just how versatile electric architecture can be.

This is where Fisker Inc., an automotive company dedicated to creating 'emotionally captivating and environmentally friendly' EVs, is taking great strides towards sustainability. And its recently unveiled Life Cycle Assessment (LCA) reports just how far the business has come from concept.

This comprehensive analysis is an in-depth study of the company's carbon footprint associated with the Fisker Ocean all-electric SUV, from its inception to its final disposal. With the lowest recorded carbon footprint among electric SUVs in its market segment, the Fisker Ocean lives up to its claim of being the 'world's most sustainable vehicle'—demonstrating its commitment to environmental responsibility throughout its entire lifespan.

What sets Fisker apart from its competitors is its proactive approach to sustainability, which was integrated into its business strategy long before it became a publicly traded company. Fisker places a strong emphasis on minimising the use of new materials, creating vehicles that are as energy-efficient as possible. The company dedicates its time and energy to reducing waste, by exploring methods for reusing and recycling both the entire vehicle and its batteries. Fisker's commitment to a "circular economy" also involves exploring ways to reintegrate battery materials into the upstream sourcing process.
"Since we founded Fisker Inc., building the most sustainable electric vehicles is not just a marketing slogan; it's core to our culture," Chairman and CEO Henrik Fisker said.
"It means shifting antiquated thought processes from across a 100-year-old industry, challenging the supply chain down to the most minute details, working with partners to improve the way cars are assembled, the energy they are charged with, and working on the way our vehicles are recycled after they come off the road. Our LCA confirms that climate neutrality has been a priority, since well before we started building vehicles."
A forward-thinking approach to the EV life-cycle
What distinguishes Fisker's LCA from others in the industry is its reliance on primarily primary data rather than estimates. The company works closely with its Tier 1 suppliers to ensure accurate carbon accounting, and its transparency regarding processes, measurements, and environmental impact is unprecedented.
Fisker has already begun delivering vehicles to customers in both the United States and Europe. This unique dual-market certification strategy allowed for a simultaneous launch in both regions. The Fisker Ocean One, which serves as the launch edition model for the Fisker Ocean Extreme priced at $68,999, boasts a 113 kWh battery pack (with 106 kWh usable) and an impressive EPA range of 360 miles on standard 20" wheels and tires.
This range sets a new benchmark for electric SUVs in its class. In Europe, the Fisker Ocean Extreme offers a WLTP range of 707 km (440 UK miles) on standard 20" wheels and tires, making it the electric SUV with the longest range available on the market. The Fisker Ocean Sport, starting at US$37,4992 in the US, provides an entry point for customers seeking an affordable yet sustainable all-electric SUV.
"The results are clear," says Fisker.
"The carbon saved by choosing a Fisker Ocean over an average gasoline vehicle equals the carbon sequestered from 39 acres of US forests," he adds.
"We challenge every partner and find like-minded suppliers that strive to do better. It's no accident the Fisker Ocean is made in a factory powered by renewable energy. This is only the beginning. We will strive to improve every step of the way as we move toward the upcoming Fisker Alaska, PEAR, and Ronin vehicles.
Fisker Inc. continues to push boundaries in the electric vehicle industry, proving that sustainability and emotional appeal can go hand in hand. With its focus on reducing environmental impact, Fisker is poised to make a significant contribution to the ongoing shift towards a greener and more sustainable future.