Charging & Infrastructure
Toyota breakthrough battery could see EV range skyrocket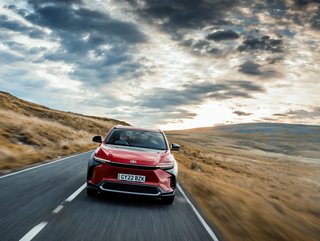 Breakthrough solid-state battery technology who take Toyota's EV range into the thousands
The Japanese OEM Toyota announced breakthrough battery tech that could see an increase in its electric vehicle range while halving cost, weight, and size
Electric vehicle (EV) manufacturers have made great strides in rolling out alternatively powered cars globally with some nations yet to catch up. However, despite their role in decarbonising transportation and enabling much more intuitive mobility for homeowners, electric cars see challenges on the horizon as more and more make it onto our roads.

Starting at the beginning, the lithium supply chain, which is seeing a growing demand and therefore an increased impact on the planet as carbon dioxide (CO2) emissions are produced in the process of extracting this crucial earth mineral.

Resolving this problem is a labour of research and innovation, which describes the actions supported by original equipment manufacturers (OEMs), like Toyota, to build solid-state batteries (SSBs).
Why is the focus on battery innovation, not EVs?
Both of these points go hand-in-hand. While more EVs are needed, albeit at a lower price in many instances, the battery is also an area where efficiency can be gained. By using a solid-state electrolyser in place of a liquid on—like lithium—battery innovators are able to squeeze out more range from their battery packs while making them lighter.

Breakthroughs are happening across a number of facilities, and the demand for more energy density even gained the attention of NASA as it plans to build a super battery.

But, now we hear that Toyota has taken a major step in the right direction in achieving efficiency gains and providing customers with much-desired high-range EVs.

"For both our liquid and our solid-state batteries, we are aiming to drastically change the situation where current batteries are too big, heavy and expensive," said Keiji Kaita, President of the Japanese auto firm's research and development centre for carbon neutrality. "In terms of potential, we will aim to halve all of these factors."

Halving what exactly? It seems what Kaita is referring to is the company's announcement on the 4th of July that the company is ever closer to an SSB that will not only be half the size and weight of a conventional lithium-ion battery, but will split the cost right down the middle.

If the battery is brought to the market, Toyota's breakthrough could make history and completely shake up the industry as the number of electric cars grows significantly in the lead up to its projected roll out. By 2025, the company hopes to install its latest battery technology into its vehicles, achieving a potential range of 1,200 km (745 miles) per charge, putting its cars up there at the top.
But aren't solid-state batteries costly to manufacture?
Historically, the SSB has been seen as a high-cost product to make, Toyota's proposal and plans suggest that the process can be simplified and therefore cost-effective.

As the laggard in the EV industry, Toyota is now looking for ways to build up its presence in current automotive affairs and bring the Japanese brand up to speed with decarbonisation in the sector. With news like this, perhaps the company will be allowed to re-enter the space.

Also, the announcement of higher range comes with a charging element as well. Following the Advertising Standards Authority's ban on Hyundai and Toyota adverts in June 2023, the company's announcement of a potential 10-minute recharge is likely to spark the interest of the industry. Previously the adverts were removed due to misleading information about charging times.

But the SSB by Toyota could be a game-changer for the industry and put Toyota on the electrified map, which is a bold way to build up its reputation as a sustainable OEM.

"Often there are breakthroughs at the prototype stage but then scaling it up is difficult," says David Bailey, a professor at the University of Birmingham, UK. "If it is a genuine breakthrough it could be a game-changer, very much the holy grail of battery vehicles."