Ford owns a different approach to expanding EV market share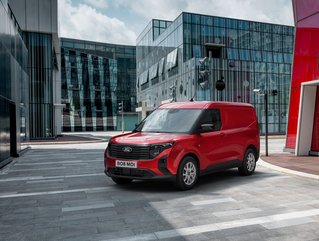 The latest model Ford Transit Courier
The traditional OEM defies the patterns of its automotive rivals to reduce risk as it limits spend on expansion into the Chinese electric vehicle market
As most car makers are yet to leverage the potential growth from electric vehicle (EV) expansion to China, there is minimal information to suggest success. In such a new territory in their home continents, acquiring a share of the Chinese market could be a risky move for traditional original equipment manufacturers (OEMs) as they strive for a truly global position.

The US-based car company Ford suggests that there is minimal insight into China at the moment, which is why the manufacturer will deliver a select amount of business to protect funds for other areas of the industry.

The company is already operational in China through joint ventures with Changan, Lin Ho and JMC, but has seen its market share halved over the past six years.

By injecting less capital into China, Ford hopes to expand its commercial vehicle business to act as a "listening post" for automotive trends in the country, which it believes will be crucial for understanding the battery technology available and the overall trajectory of China's electrification.
"If you just reinvent in a new cycle of EVs in China, there is no guarantee, or no data, that would suggest the western companies win," says Jim Farley, CEO at Ford Motor Company.
Farley also notes that the competition looks much different in China as it is led by brands like Tesla, Great Wall, SAIC, Changan, and of course BYD.
However, despite the risk that the Ford CEO foresees in the Chinese auto industry, there is a lot of scope for insight and innovation in a hub of battery technology and digital user experience, which is where the opportunities lie for the company to scope out new digital solutions.
Creating a fully connected EV experience
As a leader in the commercial vehicle space, Ford is pushing forward with its transition to EVs both in the consumer and trade markets globally.
Previously the company announced the electrified version of its Ford Transit models, which will now expand in terms of technology capabilities and user experience.
The electric platform is enabling benefits for commercial users as they gain more cargo space and leverage Ford Pro's software platform to benefit from connected vehicle services.
The Ford Pro solution is designed to increase efficiencies and uptime of commercial vehicles while reducing the operating costs of electrified vehicles for fleets.
"We are entering the always-on digital age, and running a fleet has never been more complex," said Ted Cannis, CEO, Ford Pro.
"Ford Pro makes it easy for businesses to boost their productivity, with a one-stop-shop solution delivered by a brand they can trust."