Will Ford's SuperVan beat the Rimac Nevera EV supercar?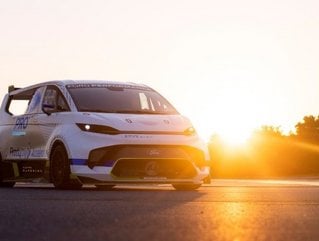 Released at the Goodwood Festival of Speed, Ford is showcasing great benefits from electric vehicles (EVs) with the latest in its SuperVan series
What if a van built by Ford could give the Rimac Nevera a run for its money? I bet nobody had asked that question until now, as the latest instalment of the SuperVan series has come to fruition—already showcased at the Goodwood Festival of Speed.

Ford already introduced its electric van model to the market, but nothing like this one. Ford Performance drafted in STARD—a research & development company specialising in high-performance vehicles—to work on a project like no other that represents the potential of the commercial vehicle industry.

Breaking EV boundaries with Ford Performance technology
The SuperVan series started in 1971 with the first model transit released at the Brands Hatch race track in the UK. The development of the SuperVan is both a marketing mechanism for the company that doubles as an incredible innovation. Each superVan represents a shift in mobility for commercial vehicles and provides customers with peace of mind that their transit vans are robust enough to withstand the racetrack.
And the company wasn't joking around. It has sold more than eight million of them in total and transit vans also remain hot commodities on the European second hand vehicle market.
But, consumers shouldn't underestimate this series as a mere marketing campaign. Ford Performance has been hard at work to develop the Ford Pro Electric SuperVan; a vehicle which encompasses the organisation's racing heritage, commercial vehicle excellence and technical innovation.
There's a reason for asking the question, "will Ford's SuperVan beat the Rimac Nevera?"
The electric SuperVan sports a four-wheel powertrain with a motor for each wheel and a two-speed gearbox enabling the van for drag racing, track racing, and also has an eco-driving mode. Its configuration, along with the technology that will be mostly integrated into Ford's upcoming e_Transit models, provides the driver with various functions, including real-time data on the track, the ability to manage tyre pressure and manage the charge of the vehicle. This means the van could operate on the road in a sustainable way, but it takes around 2,000hp to the track with a top speed of 300km/h (186mph).
While the SuperVan isn't quite your average commercial vehicle, it acts as a testbed for new electric vans that we can be expected to see from Ford in the near future as it continues along its trajectory of electrification. It also shares the same cloud solutions that will be used in the new vehicles, using the Ford SYNC system that stores vehicle data.
"Ford Pro is all about accelerating productivity for our customers – so why not create a new Electric SuperVan that proves the power of electrification and connectivity," said Hans Schep, general manager, Ford Pro, Europe.
"This incredible demonstrator vehicle takes E-Transit Custom's advanced engineering and distinctive look to a whole new level, and is high-speed proof of the power of Ford Pro's connected services ecosystem."