Personal aviation: A new electrified industry of the future?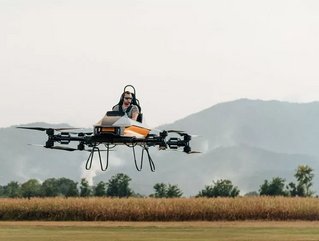 Credit: Mc.Clic MC ONE
We're taking a look at boutique personal aircraft and its current position in the market, and whether it would fit into an electrified mobility network
There was once a time when petrol heads would talk smack about electric vehicles (EVs) and say "that won't work" or "it'll never happen'" Although these aren't the words of everyone, there's certainly been some scepticism about electric road cars for quite some time, but as of this decade, all preconceived thoughts are being proven wrong—bit by bit.
With this in mind, it seems more reasonable than ever to speculate of a new industry coming into the fold in the future. No, this doesn't mean flying cars, but perhaps personal aviation might be a possibility in the coming years.
With the dawn of electric vertical take-off and landing (eVTOL) aircraft and the nearing of electric air transportation for both passengers and cargo, the benefits are yet to be fully realised as minimal versions are commercialised. But, orders have been placed for electric aircraft and businesses are investing more and more into the eVTOL space because it shows promise through innovation.
Looking beyond the commercial space, consumers are yet to be presented with the benefits of widespread personal aviation solutions.
If you're wondering what influenced this conversation, we've come across some exciting product prototypes that provide a glimpse into a personalised aviation experience. These include the Jetson ONE, which was previously covered at EV Magazine, but also the vision of another product in the 'boutique aircraft' category by MC.CLIC—the MC ONE.

While it can only be assumed that these two vehicles have similar names because they are the first of their kind, what they represent is something truly extraordinary. It's important to recognise the configuration of these two aircraft, which mimic that of a commercial drone or can be loosely related to the larger eVTOLs that we see in the market today.
Could personal aircraft be introduced into the e-mobility network?
This aircraft may not be able to take you across borders—or even across towns for that matter—but it does signify something unique to the drone industry. Leveraging the aircraft for commercial means has provided businesses with flexible solutions for surveying and creating high-quality video productions, but what if this technology could be used to move people consistently?

The MC ONE currently has a flight time of 12 - 15 minutes and a top speed of 80 km/h (50 mph), which is not likely to provide anyone with any level of transportation without a large plot of private land and free time on their hands to enjoy the unique experience. But the creation of such a machine shows promise for consumers and could potentially pave the way for new and exciting ways to travel nationally.

Referring back to the earlier point: the electric passenger car was once an idea, so how could we possibly write off the idea of personal aviation?
Consumers demand flexibility to accept e-mobility
The current debate among drivers looking to switch to EVs is the stress and inconvenience of charging and the potential to run out of charge before finding a suitable charger. But if applied correctly, drivers can easily bring an electric car into their lives—leveraging opportunity charging to benefit them.

Taking into account the rate of innovation in electrical engineering, personal light aircraft could fit into the micro-mobility category, albeit with a different set of regulations above it. Travelling as the crow flies is not only the most efficient way to go, but would say time for those who dare to take on the challenge of flying. It's also important to note that in the future, such solutions could be automated—which is another debate in itself, but hold that thought.
Commercial viability for 'micro-eVTOLs
It's also important to note that companies are increasingly interested in eVTOLs for logistics purposes, and they could even become the next form of all-electric taxi or intercity transportation.

This combined with the introduction of robots and drones into the delivery process would suggest that personal eVTOLs would make a sustainable contribution to logistics.

The whole ethos of the MC ONE is 'Trust is Power', which makes sense in today's transport sector. Consumers and businesses must put their trust in electrified solutions to reap the power of sustainable transformation, which is also a factor in their own social equity.

The skies are yet to be used to benefit both businesses and the public, but the potential solutions are likely to be carefully analysed, considered, and governed by tight regulations.

While personal aviation may not be the solution for anyone at this stage, the excitement around eVTOL technology certainly shows promise for the future.