Does Jetson have a solution for micro-mobility by air?
Electric flight is a challenge that leading aviation companies have accepted, but Jetson's solution looks like like an micro-mobility EV for the air
Many have only just become accustomed to the fact that micro-mobility is very much a thing of the future. As far as electric vehicles (EVs) go, they are convenient, nimble, and can be used in areas you wouldn't be able to access safely by car.

But, there is another space that is yet to be leveraged for its full potential—the sky.

eVTOLs are making their way into public view, but it seems that consumers are far away from using them as a means of public or even personal transportation. However, there is something to be said for how technology is used to put humans in the air.

A Swedish firm, Jetson is a company that is looking to leverage undiscovered methods of transportation, which could further revolutionise the way the world uses transportation. The company takes the eVTOL and shrinks it down to create a personal vehicle that we can only describe as a micro-mobility EV for the air.

Launching a revolutionary idea for electrification
Jetson launched the personal eVTOL prototype in 2018, the Jetson ONE, which has since received reservations for 15 customers—taking up the majority of its first planned product volume.
The company has completed hundreds of flights with Jetson ONE and has since seen more interest from buyers.
The eVTOL uses a newly-designed coaxial motor configuration that provides safe landing capabilities, even if one of the aircraft's motors fails. In terms of materials, the ONE is built using carbon/kevlar composite, which makes up the seat for the pilot and reinforces the structure for the aircraft while keeping it lightweight.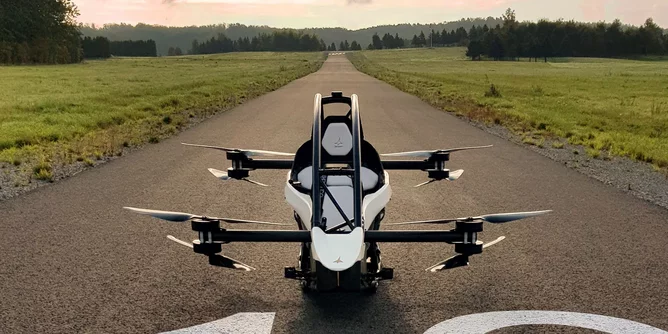 During the development phase of the vehicle, the team gathered all data from hundreds of test flights to redesign and optimise the propulsion system to become as efficient as possible while ensuring a long enough flight time. These developments resulted in larger, carbon fibre propellers.
The company's Founder and CTO, Tomasz Patan, explains "the Jeston ONE is built around a rigid aluminium space frame with eight powerful electric motors."
"It utilises carbon fibre and cutting-edge 3D printed components, making it an extremely lightweight design. It is also equipped with many safety features, including a redundant propulsion system and a ballistic parachute. It is a dream to fly."
Currently the flight time is set to around 20 minutes and the top speed of the aircraft is 102 km/h, achieved by the electric motors, which propel all 86kg of the aircraft.