Will Tesla's Cybertruck blur the line between EV categories?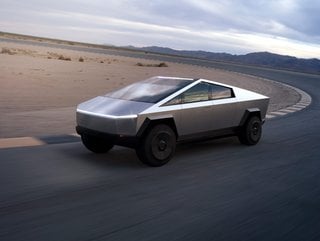 Credit: Tesla | Rendering of the Tesla Cybertruck design
Those on the waiting list for a sci-fi style Cybertruck from Elon Musk's Tesla have been waiting for two years—but is this electric car worth the patience?
While we can only speculate the success of the Tesla Cybertruck based on its hype and performance estimations, consumers are having to wait a very long time to get their hands on a piece of the future. Led by the industry's most influential man Elon Musk, Tesla expects a full waiting time of five years for the electric truck as it builds anticipation among its followers.

The company is packaging everything the drive could possibly need into its exoskeleton with the power and speed of a sports car (electric or not) and utility beyond your average internal combustion engine (ICE) truck. The rugged design is representative of the shell used by Tesla, which will be made from 30x cold-rolled stainless steel in the attempt to eliminate the possibility of dents.

This truck certainly looks like it comes from a future dystopian world, and it will certainly be built for it. The ultra-strong Armor Glass also consists of polymer-layered composite to absorb force and redirect impact, which has significantly lower resistance than most trucks. It's almost as if Musk is preparing the world for a zombie apocalypse, and doing it in style.

But the real application of this career is set to astound with everyday environments the least of its concerns. The Cybertruck is set to achieve zero to 60 mph in 2.9 seconds, but, this is the best part, the battery will hold out for 500 miles of range.

Like many of the electric vehicles (EVs) coming into the market today, the Cybertruck will be built with battery-electric power in mind and therefore leverage reduces barriers in terms of vehicle seating layout and payload configuration—although it will largely work like any other utility vehicle. The ability to carry 1.5 tonnes gives the vehicle some leeway to serve a number of different needs within the EV industry.

With only US$100 to reserve a Cybertruck, the orders exceeded 1.9 million in July 2023. However, despite their best efforts to get there first, the company only plans to make 375,000 of the trucks each year—which means the waiting time looks more than a minimum.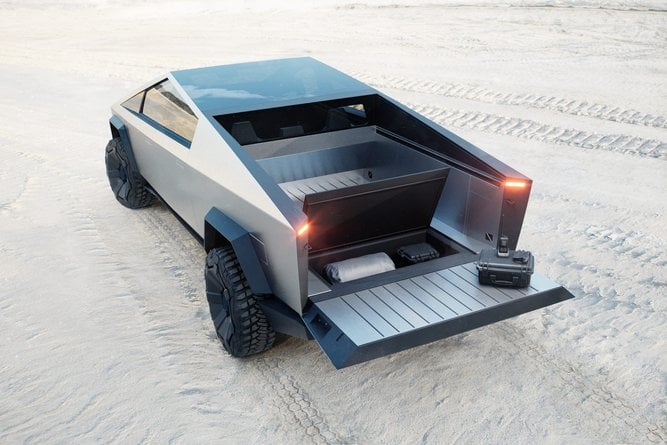 Credit: Tesla | The bulkhead of the Cybertruck electric pickup truck
The reason for this is, like many other EV industry players, Tesla is struggling to scale up its in-house battery production in order to meet the demands—exacerbated by supply chain disruptions resulting from COVID-19 and other global events. Nevertheless, the first Cybertruck rolled off the production line in July 2023 at its gigafactory in Austin Texas.
Now the EV has made it out into the world, it's only a matter of time before we begin to see it in showrooms and available to compete with some of the leading utility truck makers, including Rivian, Ford, and Maxus. Not to mention that another pure-play EV manufacturer, Fisker, will attempt its market entry in 2025.
The electric-utility vehicle market is shaping up nicely
With more options on the table, the utility vehicle market is now seeing electrical traction now that the majority of original equipment manufacturers (OEMs) have delivered smaller vehicles and electric SUVs globally. It seems the focus for the next few years from a product development standpoint is to meet the news of commercial vehicles markets and tackle an entirely new segment of decarbonisation.
Much like the SUV market, vehicles have evolved to become statement pieces and are less likely to be used off road, but Tesla's Cybertruck design and the practicality of its bulkhead and payload seems to appeal to a number of different buyers—most likely the idea of versatility and flexibility to use its capacity.
Pickup trucks are often used for construction, farming, and other industrial practices, but Tesla's model will bridge the gap between these markets, giving everyday drivers the towing capabilities and storage found in work vehicles. However, this may somewhat blur the lines between different vehicle categories.
******
Further insights can be found on our website or click here to receive our newsletter with a constant feed of new stories every week.
EV Magazine is dedicated to creating a global community of businesses, experts, and EV enthusiasts with comprehensive insights into automotive and the surrounding sectors.
For more EV insights check out the latest edition of EV Magazine and be sure to follow us on LinkedIn & Twitter.
You may also be interested in Sustainability Magazine and Energy Digital Magazine.
Please also check out our upcoming event - Sustainability LIVE in London on September 6-7 2023.
BizClik is a global provider of B2B digital media platforms that cover Executive Communities for CEOs, CFOs, CMOs, Sustainability Leaders, Procurement & Supply Chain Leaders, Technology & AI Leaders, Cyber Leaders, FinTech & InsurTech Leaders as well as covering industries such as Manufacturing, Mining, Energy, EV, Construction, Healthcare + Food & Drink.
BizClik – based in London, Dubai, and New York – offers services such as Content Creation, Advertising & Sponsorship Solutions, Webinars & Events.