Audi electric cars help decarbonise Dubai's Police force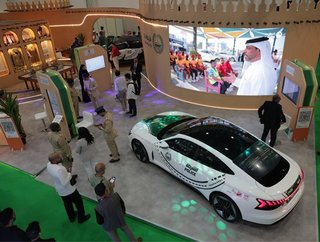 Credit: Al Nabooda Automobiles | The Audi RS e-tron GT is the electric vehicle of choice for the Dubai Police
The Dubai Police force operates a luxury patrol fleet, but the latest edition of 100 Audi RS e-tron GT electric cars will decarbonise the public service
Not only does Audi continue to deliver its signature style, but bring electric propulsion to the luxury car market. As part of the Volkswagen Group, the company is a cog in the large-scale operation to decarbonise cars of German descent.
As of now all brands manufactured under the parent company have delivered electric innovations, thanks to the launch of the first Lamborghini concept electric vehicle (EV)—the Lanzador.
Audi is one of the many brands that continues to innovate and generate more excitement around electric cars, in particular, ensuring the smooth transition from internal combustion engines (ICEs) to all-electric by championing its trademark interiors with digital influences and modern updates.
It seems that Audi electric cars are not only desirable for their aesthetic, but also their function as the Dubai Police chose to purchase 100 of its RS e-tron GTs for its luxury patrol fleet in the heart of the city. The cars provide the public service with up to 488 kilometres (305 miles) per charge with 93.4 kilowatt-hour batteries and cutting-edge technology that enables 800-volt charging.
These EVs were purchased from Al Nabooda Automobiles—a dealership with access to the latest Volkswagen, Audi and Porsche vehicles.
Kunjithapadam (K) Rajaram, the CEO of the dealership, says: "We are proud to be supporting the efforts of Dubai Police by supplying a range of 100 Audi cars, including all-electric vehicles and the latest Audi models."
Alleviating the range problem of electric vehicles
The Dubai Police set a great example to a number of organisations out there looking to shift their fleets to EVs. While the Police has its own agenda, consisting of luxury and performance in order to keep up with the demographic of cars in the city, the investment in electric cars is greatly recognised as a step further in city-wide electrification.
Alternatively, the RS e-tron GT was chosen as a worthy companion to the already established supercar fleet in operations, which includes Bentley Continental GTs, Mercedes Benz, Maseratis, Aston Martins, and Cadillacs.
"Supporting the force's fleet will enhance the security and traffic operations in the city," says the Assistant Commander-in-Chief for operations affairs at the Dubai Police Officers' Club Major General Abdullah Al Ghaithi.
"These cars have the latest technologies and high level of performance to serve traffic movement and safety on major roads."
The application of EVs in this segment highlights the idea of a sustainable transport mix. While the cars owned by the Dubai Police would not serve drivers on long journeys, their application in the city of Dubai is paramount for ensuring smooth, decarbonised operation of its fleet. If an organisation such as this can be successful with EVs in place, longer range vehicles will surely serve more fleets and will certainly benefit consumers who travel less.
Ultimately, as authorities adopt electric cars, cities could begin to understand the opportunities provided by alternative vehicles and companies can witness a case study for EV adoption.
Audi at IAA Mobility
At the 2023 IAA Mobility conference, Audi showcased some of its latest design innovations based on its updates philosophy. The company also announced it is developing its flagship range further (the Q range) with revised technologies, including HD Matrix LED headlights with an added high beam.
Most of the brand's developments were centred around design, which makes a change of many discussions of technology and electrical architecture, which is also crucial for new EVs.
******
EV Magazine is dedicated to creating a global community of businesses, experts, and EV enthusiasts with comprehensive insights into automotive and the surrounding sectors.
For more EV insights check out the latest edition of EV Magazine and be sure to follow us on LinkedIn & Twitter.
You may also be interested in Sustainability Magazine and Energy Digital Magazine.
*********************************************
BizClik is a global provider of B2B digital media platforms that cover Executive Communities for CEOs, CFOs, CMOs, Sustainability Leaders, Procurement & Supply Chain Leaders, Technology & AI Leaders, Cyber Leaders, FinTech & InsurTech Leaders as well as covering industries such as Manufacturing, Mining, Energy, EV, Construction, Healthcare + Food & Drink.
BizClik – based in London, Dubai, and New York – offers services such as Content Creation, Advertising & Sponsorship Solutions, Webinars & Events.