Lamborghini launches the Lanzador as its first concept EV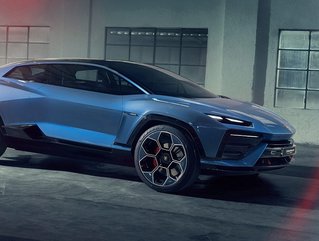 Lamborghini's Lanzador. Credit | Lamborghini
Lamborghini creates the maximum emotional version of electric driving in its new Lanzador, says Rouven Mohr, Lamborghini's Chief Technical Officer
Lamborghini has debuted its new concept car — meet Lanzador.
The electric vehicle is planned for 2028, indicating a visionary preview into the future of the luxury car brand. The launch is inline with the brand's 2021 Direzione Cor Tauri strategy, and marks a significant step towards decarbonisation and electrification.
The offerings in EVs from the world's luxury car brands vary. Ferrari offers four hybrid models but no pure EV, whilst Porsche's Taycan debuted in 2015, nearly a decade before the Lanzador. As roads around the globe see a sharp increase of electric vehicles, and companies work towards the energy transition, what is causing the delay in these major international brands launching electric vehicles?
Lamborghini states that it is working towards 'a future of electrification, whilst holding firmly to the brand's hallmarks of performance, cutting-edge technologies, exclusive design, and its position as a leader in the luxury automotive sector.'
Lamborghini are working to redefine the electric driving experience
Lamborghini has designed the Lanzador with an innovative Gran Turismo 2+2 concept, combining the best parts of a grand tourer, a crossover and a sports car to create this new generation of EV to bring to the market.
"With this concept we are ushering in a new car segment — the Ultra GT," shares Stephan Winkelmann, Chairman and CEO of Automobili Lamborghini.
"Thanks to groundbreaking technologies, it is poised to offer customers a new and unparalleled driving experience, one that's quintessentially Lamborghini."
The Lanzador is equipped with:
Two electric motors, providing all-wheel drive and efficiency in all driving conditions, on all surfaces, and in every driving style. The system delivers a peak power that exceeds one megawatt.
Sports steering wheel that allows the driver to independently adjust the control systems while on the road, actively modifying the car's behaviour and creating their own individual profile to best express their driving needs and ensure unimagined emotions.
Lamborghini Dinamica Veicolo Integrata (LDVI), the new version of the driving dynamics control system, gives drivers the utmost freedom of customisation, allowing them to modulate the active control systems to best suit their driving needs using a suite of sensors and actuators to adjust the driver's experience, and feedback from inputs to change things like torque distribution and vectoring.
Active aerodynamics in the front and rear maximise aerodynamic efficiency in the different driving modes, enabling the car to regulate airflow precisely, increasing the range in Urban mode and increasing downforce in Performance mode.
Steerable rear axle
Air suspension
"One of our most important development targets has been to redefine the electric behaviour of a Lambo," says Rouven Mohr, Lamborghini's Chief Technical Officer.
"The people expect a Lamborghini to be a little bit more rude, a little bit more, not so smooth, and so on. Because a lot of electric cars have the performance, this is not the differentiation. At the moment, we are redefining exactly this behaviour and there are a lot of ideas."
Sustainability woven into the fabric of EV design
Alongside utilising sustainable fuel, the Lanzador is also created using sustainable materials. The interior is designed incorporating Lamborghini's 'feel like a pilot' approach, and is a truly futuristic space offering an entirely new experience in terms of spaciousness and comfort.
Materials including merino wool and regenerated carbon fibre, demonstrate the company's commitment to reducing its environmental impact without sacrificing the luxury and comfort typical of a Lamborghini. Some of the non-visible plastic elements, such as the foam in the sports seats, are made from 3D-printed recycled fibres.
The interior features a light, slim control panel that makes it possible to actively modify the car's behaviour while driving in the ergonomic, luxurious environment.
Lamborghini: The future of electrification
With the Lanzador, Lamborghini looks to the future and anticipates a new generation of Lamborghini drivers who prioritise technology and sustainability alongside the classic charisma and sportiness expected from a Lamborghini
Lanzador represents a true milestone for Lamborghini as the company continues actively working to electrify its entire range of vehicles and to achieve decarbonisation. The new concept car is part of a broad strategy to reduce CO2 emissions and embrace a more sustainable vision for the future.
"We can, for the first time, implement functions that are even not thinkable in a combustion car," Mohr shares.
"For instance, we are already working on paddle shifters, that allow you to influence the torque vectoring during the driving. And that's only one feature. We have a lot of these. I strongly believe these kinds of features make electric driving cool. Not the fact if you are from zero to 60, in 1.7, 1.8, or 2.1, because you cannot perceive a difference. We are working especially on the focus.
"What is the maximum emotional version of electric driving? And this has to be a Lambo."
******
EV Magazine is dedicated to creating a global community of businesses, experts, and EV enthusiasts with comprehensive insights into automotive and the surrounding sectors.
For more EV insights check out the latest edition of EV Magazine and be sure to follow us on LinkedIn & Twitter.
You may also be interested in Sustainability Magazine and Energy Digital Magazine.
Please also check out our upcoming event - Sustainability LIVE in London on September 6-7 2023.
BizClik is a global provider of B2B digital media platforms that cover Executive Communities for CEOs, CFOs, CMOs, Sustainability Leaders, Procurement & Supply Chain Leaders, Technology & AI Leaders, Cyber Leaders, FinTech & InsurTech Leaders as well as covering industries such as Manufacturing, Mining, Energy, EV, Construction, Healthcare + Food & Drink.
BizClik – based in London, Dubai, and New York – offers services such as Content Creation, Advertising & Sponsorship Solutions, Webinars & Events.