Charging & Infrastructure
Ohme joins Mercedes-Benz as official home charging partner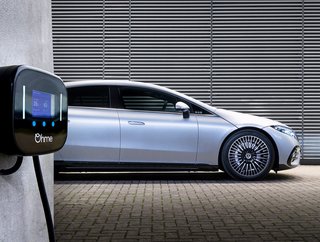 Ohme partners with Mercedes-Benz UK. Credit | Mercedes-Benz
Ohme is looking forward to introducing Mercedes EV drivers to the benefits of dynamic smart-charging and support says Ohme CEO David Watson
German automobile company Mercedes-Benz has been producing luxury yet daily drivable cars for nearly a century, providing the world with best selling classics including the favourite Mercedes-Benz C-Class and the luxury GLC.

The brand is synonymous with solidity alongside innovation, with global reach and constant inventions that often become universally used.

Mercedes first announced it was developing electric vehicles (EVs) in 2008, and the cars available now are some of the most exciting in the market.
EV charging technology partnership

Mercedes has a longstanding commitment to technological innovation, and has partnered with one of the UK's fastest-growing and most dynamic smart charging companies — Ohme.

Going forward, all Mercedes customers will be recommended Ohme's smart chargers as the home charging solution, and Ohme Home Pro chargers will be showcased in Mercedes-Benz showrooms for customer viewing.

"Ohme's technological innovation and excellent approach towards customer service and professionalism align with the core values of Mercedes-Benz," says Jason Allbutt, Head of Product and Planning from Mercedes-Benz UK.

Alongside enhancing the charging experience for Mercedes customers, the partnership promotes sustainable and cost-effective practices. It benefits both companies' reputations — Ohme solidifies as a leader in EV charging technology, whilst Mercedes enforces its commitment to customer service and technological innovation.

"Mercedes-Benz has one of the strongest premium line-ups of electric vehicles," David Watson, CEO of Ohme says.

"We're looking forward to introducing Mercedes-Benz customers to the benefits of dynamic smart-charging and supporting its network of agents."
Developing technology for EV home charging
Ohme's smart chargers connect with the national grid in real-time, taking advantage of low-price charging periods with smart off-peak tariff through automatic charging adjustments.
Charging a Mercedes-Benz EQA with a 66kWh battery from 0 to 80% with an Ohme smart charger on a smart off-peak tariff, such as Octopus Intelligent, could cost just £3.96.
In an effort to reduce CO2 impact, drivers using Ohme can charge their vehicles when renewable energy generation on the national grid is at its peak.
"We love working with partners who share our ambition to make the transition to EV charging easy, through offering good value smart technology and a great customer experience that minimises the cost of charging," Watson says.
"So, we are really looking forward to working with Mercedes Retail network, and offering a great service to customers and network partners alike."
******
EV Magazine is dedicated to creating a global community of businesses, experts, and EV enthusiasts with comprehensive insights into automotive and the surrounding sectors.
For more EV insights check out the latest edition of EV Magazine and be sure to follow us on LinkedIn & Twitter.
You may also be interested in Sustainability Magazine and Energy Digital Magazine.
Please also check out our upcoming event - Sustainability LIVE in London on September 6-7 2023.
BizClik is a global provider of B2B digital media platforms that cover Executive Communities for CEOs, CFOs, CMOs, Sustainability Leaders, Procurement & Supply Chain Leaders, Technology & AI Leaders, Cyber Leaders, FinTech & InsurTech Leaders as well as covering industries such as Manufacturing, Mining, Energy, EV, Construction, Healthcare + Food & Drink.
BizClik – based in London, Dubai, and New York – offers services such as Content Creation, Advertising & Sponsorship Solutions, Webinars & Events.