Charging & Infrastructure
Mercedes-Benz commits to global EV infrastructure investment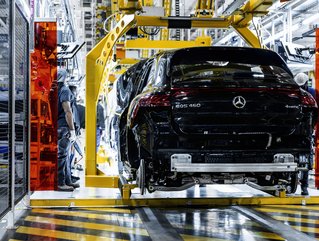 The Mercedes-Benz EQS SUV in production. Credit | Mercedes-Benz
Mercedes-Benz partners with MN8 & ChargePoint to launch a global high-end charging network, says Ola Källenius, Mercedes-Benz Group AG Board Chairman
Mercedes-Benz is a German automobile company which, although founded in 1926, has roots in the world's first internal combustion engine (ICE) used in a car patented in 1886 by Karl and Bertha Benz.
The company's slogan — the best or nothing — has been the backbone of its luxury yet daily drivable cars for nearly a century, providing the world with best selling classics including the favourite Mercedes-Benz C-Class and the luxury GLC.
The brand is synonymous with solidity alongside innovation, with global reach and constant inventions that often become universally used.
Mercedes first announced it was developing electric vehicles (EVs) in 2008, and the cars available now are some of the most exciting available.
Infrastructure continues to be essential in long term EV adoption
Mercedes' charging network is one of the largest in Europe, with 549,515 charge points across 29 European countries.
The vehicle manufacturer is promoting the global adoption of electric mobility, developing infrastructure to ensure unproblematic long journeys for its EV users.
Whilst available to any cars with compatible ports, the charging stations are built for Mercedes drivers, with reservation options, usage and invoices available in the Mercedes Me Charge portal for easy access, and capacity utilisation at locations ensuring that Mercedes customers don't wait.
Mercedes-Benz Electric Intelligence navigation makes travelling even easier for Mercedes drivers, providing route options that incorporate charging points and reserving spaces in real time to ensure that long journeys are smooth and drivers don't have to worry about running out of charge.
The EV charging stations are designed with all users in mind.
Where possible, the layouts are spacious, protected from the elements, equipped with surveillance cameras and have facilities including restrooms and food outlets nearby.
Mercedes' global charging network of the future
Over the next seven years, Mercedes is investing around US$1.1bn in extending its EV charging network into North America, China and other key markets.
The infrastructure is being developed in partnership with MN8, one of the largest solar energies companies in North America, and ChargePoint, a leading EV charging network technology company.
"Automotive leaders like Mercedes-Benz continue to lead the transition to electric mobility by bringing new EVs to market, and ChargePoint remains committed to enabling the simplicity that drivers expect and the charging speed they need for all vehicles whenever and wherever drivers want," says Pasquale Romano, CEO, ChargePoint.
"With this partnership, we are expanding upon our existing relationships with Mercedes-Benz and MN8 to deliver a seamless charging experience for drivers, and turnkey charging solutions at no upfront cost to site hosts. We believe the expansion of charging hubs like these will enable the emergence of a new 30 minute retail economy, at the intersection of innovation and accessibility that combines charging and commerce, giving drivers a superior experience to charge quickly and easily."
On average, the new stations will offer between four and 12 high-power chargers with up to 350 kW of charging power, with over 400 hubs being built in North America alone.
"Mercedes-Benz already offers what we believe to be the finest EVs in the market. But to accelerate the electric transformation, we need to ensure that the charging experience keeps pace as well. Our customers deserve a compelling charging experience that makes electric vehicle ownership and long-distance travel effortless — we won't take a wait-and-see approach for this to be built," says Ola Källenius, Chairman of the Board of Management of Mercedes-Benz Group AG.
"That's why we are launching a global high-end charging network. It's designed to become another differentiator of Mercedes-Benz ownership for our customers and an asset with value creation potential for our company.
We are excited to start right here in North America with strong and experienced partners like MN8 Energy and ChargePoint."
************************
EV Magazine is dedicated to creating a global community of businesses, experts, and EV enthusiasts with comprehensive insights into automotive and the surrounding sectors.
For more EV insights check out the latest edition of EV Magazine and be sure to follow us on LinkedIn & Twitter.
You may also be interested in Sustainability Magazine and Energy Digital Magazine.
Please also check out our upcoming event - Sustainability LIVE in London on September 6-7 2023.
BizClik is a global provider of B2B digital media platforms that cover Executive Communities for CEOs, CFOs, CMOs, Sustainability Leaders, Procurement & Supply Chain Leaders, Technology & AI Leaders, Cyber Leaders, FinTech & InsurTech Leaders as well as covering industries such as Manufacturing, Mining, Energy, EV, Construction, Healthcare + Food & Drink.
BizClik – based in London, Dubai, and New York – offers services such as Content Creation, Advertising & Sponsorship Solutions, Webinars & Events.