Top 10 autonomous delivery innovators you didn't know about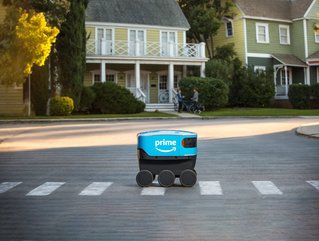 Autonomy is coming, but these solutions take robotics and EVs to a whole new level with on-demand solutions and last-mile logistics innovations
Usually, we focus on the latest electric vehicles (EVs) to enter the market, or the stories of business triumph in the e-mobility space. But here, we'd like to highlight just how important technology is in the delivery sphere.
These companies have been working on some of the most innovative solutions in CX, bringing crazy ideas to life for logistics firms, shops, and consumers to benefit from.
The 'Top 10 autonomous innovators you didn't know about' spans the ground to the air, and provides some great ideas for companies that wish to leverage autonomy for sustainability, efficiency and cost reduction.

10. Robomart
This innovative solution is a shop on wheels, and it comes directly to your location. The team is working on a solution that takes concepts from ride-hailing and autonomous delivery and puts them together.
This results in the Robomart, which will provide the app's user with on-demand products, while catering to indecisive customers who wish to browse streetside.
9. Clevon
Clevon's futuristic design is not a new sight in the logistics industry. The company has been developing electric bots for delivery for some years, which shows great potential for widespread, door-to-door grocery delivery, and other applications in the commercial environment.

8. BoxBot
Having secured investment from big names, including the automotive giant Toyota, BoxBot is a significantly larger robotic delivery innovation. The bot comes from autonomous roots as the company specialises in parcel logistics and using robotics to automate the postal chain.
7. TeleRetail
The autonomous delivery robot from TeleRetail is already in testing with one of the users, Thyssenkrupp, as it assesses the feasibility of the product. The company has also built a Coca-Cola branded robot called Pulse 1 for street delivery services.
The intuitive design of the TeleRetail delivery robot showcases the achievements that can be made with a smaller-footprint autonomous design. We can definitely envision its bobsleigh-style design roaming the streets in years to come.

6. Eliport
Eliport is a company that supplies delivery robots to businesses and organisations. The company's robots are designed to be efficient and reliable, and are capable of handling a wide range of delivery tasks. Eliport's robots are used by a variety of customers, including hospitals, schools and retail businesses. The company is known for its commitment to providing innovative and cost-effective solutions to its customers.

5. Robby Technologies
Robby Technologies is a leading technology company that specialises in the development of cutting-edge robotics and AI solutions. The company was founded by a team of experienced engineers and researchers who are passionate about creating innovative products that improve people's lives. Robby Technologies has quickly become known for its high-quality products and excellent customer service, and it continues to push the boundaries of what is possible with robotics and AI.

4. Amazon Scout
Amazon Scout is a small, autonomous delivery robot that can take care of the last-mile delivery process. The robot navigates sidewalks and uses sensors to avoid obstacles and pedestrians. Amazon has been testing Scout in select neighbourhoods in the United States. The company plans to expand the use of the robot for package delivery in the future.

3. Starship Technologies
Starship Technologies' autonomous delivery robot is a reliable, cost-effective solution for businesses looking to streamline their delivery processes. With a sleek, compact design, the robot can navigate sidewalks and other pedestrian areas with ease, delivering packages and other items directly to customers' doors. Its advanced technology and robust security features make it an ideal choice for businesses of all sizes.
The robot is linked to a dedicated app that allows the user to leverage their nimble abilities in food collection and delivery.

2. Nuro (3rd Generation)
The 3rd generation Nuro autonomous delivery robot is a small, electrified robot, designed by the American robotics company for last-mile delivery of goods. It uses advanced sensors and algorithms to navigate roads and sidewalks, avoiding obstacles and pedestrians along the way. The robot has a customisable cargo compartment and is designed to be efficient and environmentally friendly. Nuro plans to deploy the 3rd generation delivery bot in various markets in the coming years.

1. Amazon Prime Air
Amazon Prime Air is a revolutionary new service that uses advanced drone technology to deliver packages directly to customers in 30 minutes or less. With Prime Air, customers can receive their orders faster than ever before, with the added convenience of door-to-door delivery.
The drones are the result of countless hours of test flights and data aggregation, and are equipped with state-of-the-art sensors and navigation systems, making them safe, efficient and reliable. Plus, with Amazon's vast network of fulfilment centres and expertise in logistics, Prime Air is poised to become the future of package delivery.