Amazon invests electrification of European logistics network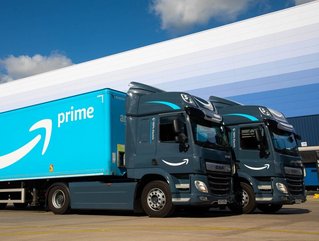 The retail and technology firm, Amazon invest more to incorporate electric vehicles (EVs) into its network of logistics vehicles across European countries
Electrification is the new realm of excitement for logistics firms. Amazon was one of the first to introduce electric vehicles (EVs) into a large-scale fleet in a bid to make its US operations more sustainable.

But, as the technology and retail giant fulfils over 1.5 million orders per day, the company has a rather large budget for electrification and since accepting a large fleet of EVs from Rivian Automotive, the company is increasing its use of battery-electric vehicles (BEVs).

On October 10th, 2022, Amazon announced further investment in electrification as it sets aside €1bn to be spent on EVs over the next five years as the company significantly reduces its dependence on fossil fuels.

Decarbonisation comes with EV investment
For the company to succeed in its Climate Pledge the latest investment set aside for EV adoption will allow Amazon to increase its zero-emission fleet to around 10,000 delivery vehicles and more than 1,500 electric HGVs.
"Our transportation network is one of the most challenging areas of our business to decarbonise, and to achieve net-zero carbon will require a substantial and sustained investment," says Andy Jassy, CEO of Amazon.
"Deploying thousands of electric vans, long-haul trucks, and bikes will help us shift further away from traditional fossil fuels—and hopefully, further encourage transportation and automotive industries in Europe and around the world to continue scaling and innovating, as we will have to work together to reach our climate goals."
Amazon also injected funds into the micromobility space and has launched hubs for e-cargo bikes, vans, and on-foot deliveries in more than 20 cities across Europe. Micromobility solutions are suitable for densely populated areas and allow Amazon to employ more delivery personnel on the ground.
These solutions have been recognised as critical for decarbonisation by Amazon, but also the cities in which it delivers.
"We are committed to creating cleaner transport as we work to tackle the global challenge that is climate change," says the UK Transport Secretary, Anne-Marie Trevelyan.
"Significant investments like Amazon's today will be vital to reducing emissions and meeting our net zero goals, while supporting growth at the same time. By adding thousands of electric and zero-emission vehicles to its fleet, Amazon is not only working to make their deliveries more sustainable, but also stimulating innovation across industry in the drive to cleaner transport."