General Motors experiments with car sound design for EVs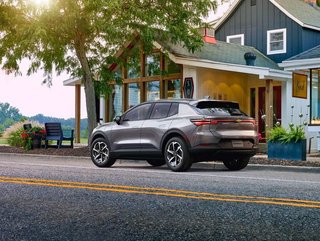 In a silent, electric revolution, General Motors is working on sound engineering for electric vehicles (EVs), composing a bespoke auditory experience
Based on recent news, we didn't introduce General Motors (GM) as one of the leading automotive manufacturers in the world. This is already widely known in the industry and the firm continues to grow, leaning into electric vehicles (EVs) as its future commercial and sustainability strategy comes into play.

Since the announcement of GM's zero-emissions commitment, the firm has shown great consideration for the needs of the automotive sector.

It started with platform development. As one of the primary components of any EV, GM focused on building its own platform, which forms the basis of its new vehicles. The Ultium platform forms the basis of its latest EV lineup, which the company is carefully releasing to the market.

The most recent vehicle announcement from the company is the Chevrolet Equinox EV, shared across news outlets and featuring the game changing new platform.
"We are strategically building an EV portfolio in the luxury, SUV and truck segments to provide vehicles with great design and at the right price points for customers," says Mary Barra, Chair and Chief Executive Officer at General Motors.
An usual development for EV applications
All this exciting news from GM is likely to pave the way for more technical innovation in the industry, but the next feature to look out for is sound.
As the number of EVs increases, there are concerns around safety. As silent vehicles, GM foresees potential risk in this and is working to design sounds for its Equinox EV model. For sound designers like Jay Kapadia, Creative Sound Director at General Motors, it is exciting to have a 'blank canvas' to design automotive sounds that match the vehicle image and allow EVs to be heard.
"As both a musician and an engineer, I am fortunate to combine my passions and work with a broad team of engineers to create the sounds that customers associate with comfort, ease and safety," says Kapadia.
"Sound plays an important role, as it evokes emotions and becomes a critical component to becoming the voice of the car."
Due to the lack of combustion noise, GM has taken the opportunity to design its vehicle sounds from scratch. The new Equinox will be given a luxury, comfortable operating sound while the GMC Hummer will receive a bolder sonic identity.
Also developing sounds for the cars, Doug Moore, Global Regulatory Sound and Vibration Engineer, says: "Sound design and sound engineering is really a fusion of regulatory needs and artistics design."
He continues: "We want purposeful and pleasing exterior sound and a relaxing experience for customers in the interior. It all comes down to making our EVs safe and enjoyable."