General Motors delivers EV autonomy in modern automotive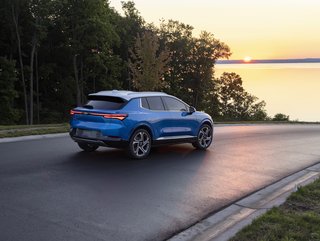 Credit: Chevrolet | 2024 Chevrolet Equinox EV 3LT
We're looking into a heritage business, General Motors has evolved from an ICE powerhouse to an innovative, modernised EV and autonomous vehicle business
From Buick, Oldsmobile and Oakland (now known as Pontiac) to the Cadillac, Chevrolet and GMC brands, General Motors (GM) is a heritage brand that fed the US demand for fuel-guzzling automobiles and is embedded in the American automotive scene—bringing with it over a century of operation.
Founded in 1908, the company worked through the early stages of automotive to the present day where, like all good automotive brands, modernisation is the key to success. The term 'modern' is one that resonates with the business today as the traditional original equipment manufacturer (OEM) delivers new energy vehicles under new era leadership—Mary Barra at the helm also empowers the conversation of women in business.
Its modern approach towards business is what makes GM such an exciting business to watch and a key influencer of sustainability in the automotive sector and electrification of global mobility networks, and introducing more female representatives into the industry.

The GM platform for an EV revolution
With a number of innovative efforts going on at GM, the heart of its electric vehicles (EVs) is built in-house. The Ultium platform is the key to allowing drivers to experience all of the company's great vehicle offerings that minimise their impacts on the planet.
Building a unique platform allows GM to reach new goals in terms of efficiency and custom-make its vehicles to fit the flexible construction standard. The battery management system is the key as it allows these great credentials, but also makes it compatible with electric cars with smaller footprints.This kind of solution is a result of over 100 years of solutions in the automotive sector whereby one major component can serve a number of vehicles.
As a result of this flexibility, Ultium can be configured to achieve 50 to 200 KWh and variability means that vehicles can also be upgraded for extended range or reduced for drivers looking to save on excessive range capabilities.
Unleashing new technology endeavours
Having previously spoken to one of GM's departments, sound design is seen as one of the newer innovations that EV development offers the business. Jay Kapadia, the company's Creative Sound Director, previously indulged us in the possibilities that sound design brings to the new world of automotive.
"With the absence of the engine, there is an electric motor in the car, and we enhance that sound, which is done by a broad team of engineers," says Kapadia in a feature with EV Magazine.
The absence of an engine means that GM has been working on new ways to provide safety features, but also enhance its user experience and make its vehicles appealing for a number of reasons. Although this is not a new component of some vehicles, the idea that technology is enhancing the way we use EVs is one of excitement and also feeds into the idea that electric cars are seen less as traditional automobiles and differentiate themselves as complex digital devices.

Following the autonomous EV trend
Speaking of digital, GM's funds are delivering self-driving technologies. The company backs its very own Cruise brand, which was previously a way of automating some of its own cars, but now looks as though the company is dedicating specific resources to building autonomous EV models—this being the Cruise Origin.
The Cruise Origin is General Motors' pioneering entry into the realm of in-house-built driverless vehicles, designed from its very inception as a completely autonomous car. Resulting from over three years of intensive development, this vehicle stands as a symbol of GM's commitment to future transportation solutions. The Cruise Origin was not a solo endeavour by GM. Developed in collaboration with Honda Motor Co Ltd, which had invested in Cruise, the brand is GM's autonomous subsidiary focused on autonomous vehicle technology, taking a 5.7% stake for US$2.75bn back in 2018.
******
Further insights can be found on our website or click here to receive our newsletter with a constant feed of new stories every week.
EV Magazine is dedicated to creating a global community of businesses, experts, and EV enthusiasts with comprehensive insights into automotive and the surrounding sectors.
For more EV insights check out the latest edition of EV Magazine and be sure to follow us on LinkedIn & Twitter.
You may also be interested in Sustainability Magazine and Energy Digital Magazine.
Please also check out our upcoming event - Sustainability LIVE in London on September 6-7 2023.
BizClik is a global provider of B2B digital media platforms that cover Executive Communities for CEOs, CFOs, CMOs, Sustainability Leaders, Procurement & Supply Chain Leaders, Technology & AI Leaders, Cyber Leaders, FinTech & InsurTech Leaders as well as covering industries such as Manufacturing, Mining, Energy, EV, Construction, Healthcare + Food & Drink.
BizClik – based in London, Dubai, and New York – offers services such as Content Creation, Advertising & Sponsorship Solutions, Webinars & Events.