The sound of EV safety is an exciting prospect for drivers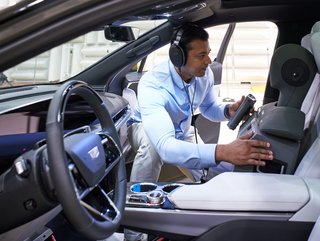 Jay Kapadia, Creative Director, General Motors, in the sound lab.
EVs come with unique safety requirements. Being silent is one of the major concerns of regulators, which is why OEMs are developing new sounds for cars
Imagine the thoughts going around motorists' heads when they hear that vehicles are going silent.
Such a change is likely to split the crowd, with daily commuters and travelling professionals on one side and the 'petrolheads' on the other. There are many who espouse the seductive nature of car sounds, from the V8 rumbles in classic American muscle cars to the bellowing, crackling exhaust pipes expelling fumes from high-cylinder engines.
For many, the idea of silent vehicles dooms the automotive industry, but from a sustainability standpoint, ICEs just aren't feasible, long-term. This is perhaps why EVs come under all possible scrutiny, such as the lack of convenience—being remedied as we speak—or the danger around silence and the impact this may have on the passing public.
The safety concern is a very real one, with automotive regulators having to specify what car makers must do to comply with health and safety standards, which is why the industry has gone full circle – vehicle sounds are back.
If you listen closely, you'll already hear them. OEMs are being held accountable via regulatory bodies to ensure that EVs meet the minimum sound requirements to make them safer for road use. The system used is referred to as the acoustic vehicle alert system – as explained by an accomplished sound designer from one of the leading automotive firms in the US.
"All of our EVs have this regulatory sound to alert pedestrians walking on the road; it makes them aware that a vehicle is passing by," says Jay Kapadia, Creative Sound Director at General Motors. "EVs being silent can be dangerous. We have to alert pedestrians, but we want to do so in a pleasant way."
This is particularly a concern for the visually impaired as authorities believe EVs, if silent, have a higher chance of accidents involving pedestrians than conventional cars. Research cited by the Royal National Institute of Blind People (RNIB) suggests that there's a 40% higher probability of collision.
Organisations developing EVs must abide by the National Highway Traffic Safety Administration (NHTSA), which governs how sounds are used in this way. Aside from this globally recognised standard, there are various others to note as different regions abide by their own sets of rules. On top of this sound profile, General Motors is able to make the necessary tweaks to match its brand profile.
This is where Kapadia mentions AVAS as a solution designed into cars as a regulatory must-have solution for safety on the road. AVAS is critical in high-traffic and high-population areas, particularly cities where low-speed traffic accidents are more likely. This is also somewhat of a solution to future proof cars as they become part of a wider electrified transport ecosystem with a variety of moving parts.
We can certainly expect AVAS to work hand-in-hand with some of the most sophisticated autonomous driving solutions out there to warn pedestrians and other road users of an EV's presence.
Creating the modern automotive soundscape
While automotive manufacturers like GM are looking at ways to reinvent the sound experience from a safety perspective, it seems there are very few limitations to the sounds they can use. More importantly, sound design doubles as a way to differentiate between vehicles, much like how some drivers would tell the difference between ICEs using their engine sounds.
Injecting new sounds into cars is not about creating new noise that bleeds into the background, but instead accentuating the components, such as an EV motor sound, to allow nearby pedestrians to gauge the speed at which cars are travelling—or their rate of acceleration.
"With the absence of the engine, there is an electric motor in the car, and we enhance that sound, which is done by a broad team of engineers," says Kapadia. "We have experts in GM as well who work on creating these propulsion sounds and enhancing the motor sound, because the motor's inherent natural sound is a cacophony. We have to mask certain frequencies and we have to enhance certain frequencies."
Listening out for new commercial EV endeavours
Understanding how sounds can impact the EV industry and how it fits with a growing population inherently opens up new opportunities for job roles to merge into those more technology-driven. Not only is sound engineering impacting the safety and comfort of pedestrians, but Kapadia also mentions how sound design is changing the internal automotive experience as well.
"The whole sonic landscape is being designed. We closely work with our design teams – our noise and vibration experts, our engineering experts—to come up with this whole sonic brand strategy, what we want the customer to experience," says Kapadia.
While engineers are responsible for the pleasantries outside the vehicle, the internal design of GM cars exemplifies the ways their sonic profiles set them apart from their competitors. Understanding vehicles in such a way creates more space for customisation, which is a challenge that companies will inevitably face as ICE factors become obsolete in the face of industry adaptation to environmental pressures.