Can Teneo revive electric car subscription business Onto?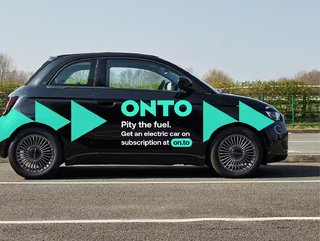 Credit: Onto | Fiat 500e branded with Onto's core message for EV subscription
Teneo financial advisor Gavin Maher commented on Onto's administration and CEO Rob Jolly stresses the importance of subscription models for EV adoption
It's disappointing to witness a well-meaning business going into such distressing stages of business. Unfortunately, the electric vehicle (EV) subscription service Onto went into administration in mid-September and is facing financial challenges in maintaining business, following a hefty £60m (US$73.21m) in funding.
Luckily the company can continue to operate as normal until the designated administrator Teneo Financial Advisory can explore all the possibilities for bringing Onto back into the green zone. Serving a customer base of around 20,000 people and leasing a fleet of 7,000 EVs, means the impact of the company's collapse could prove disruptive to a number of electric car drivers.
Gavin Maher, Senior Managing Director at Teneo—one of the advisors appointed to Onto's administration—explains that "Onto has suffered from the steep fall in electric vehicle residual value in the first half of 2023, rising interest rates and the squeeze on disposable income, and was unable to secure additional funding from its shareholders."

Why the EV industry needs services like Onto
The reason for covering this is not to witness the downfall of an EV industry startup. We hope that solutions like Onto can remain as more and more people understand the benefits of EVs, but also change their mindsets to be more open about automotive subscriptions.
Onto currently offers customers subscription agreements costing them as little as £529 per month, and is said to be cheaper than most leasing agreements.
The subscription EV model plays into the idea that drivers no longer have to follow the transition model of purchasing a car, owning it, maintaining it, and having to sell it when they wish to switch their car. While this can be cost-effective for most, the real benefit that we anticipate on a global basis is a reduced number of EVs required to serve populations.
Onto's service covers all of the basics, minimising the need for multiple bills and payments to different providers. From insurance and breakdown cover to maintenance and servicing, Onto covers all drivers' needs in its all-inclusive service.
Onto's Co-Founder & CEO Rob Jolly says: "The concept behind the subscription is to make it more accessible, giving people the real benefits of an electric car without them being locked in for long periods of time – while realising of course, that once people try an electric car, the vast majority never go back."
This operating model also protects customers from unexpected car value depreciation, which is handy for those looking to switch their cars regularly. The only potential problem for Onto here is that vehicle value depreciation lies on the business. With more advanced battery technologies coming into play—better feeding the needs of drivers switching to electric—this could potentially lead to required overhaul of the fleet in order to keep up with industry developments.
******
EV Magazine is dedicated to creating a global community of businesses, experts, and EV enthusiasts with comprehensive insights into automotive and the surrounding sectors.
For more EV insights check out the latest edition of EV Magazine and be sure to follow us on LinkedIn & Twitter.
You may also be interested in Sustainability Magazine and Energy Digital Magazine.
*********************************************
BizClik is a global provider of B2B digital media platforms that cover Executive Communities for CEOs, CFOs, CMOs, Sustainability Leaders, Procurement & Supply Chain Leaders, Technology & AI Leaders, Cyber Leaders, FinTech & InsurTech Leaders as well as covering industries such as Manufacturing, Mining, Energy, EV, Construction, Healthcare + Food & Drink.
BizClik – based in London, Dubai, and New York – offers services such as Content Creation, Advertising & Sponsorship Solutions, Webinars & Events.