PETRONAS refines lubricants for e-motorcycle racing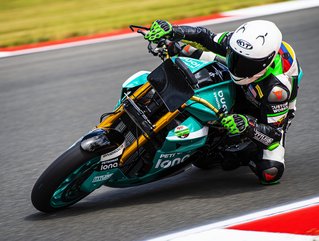 Energica is collaborating with PETRONS Lubricants International to develop solutions in the Iona business.
Energica Motor Company is supported by PETRONAS Lubricants International which is developing fluids to be used in electrified vehicle powertrains
Previously featured in the Top 10: Electric Motorcycles, Energica Motor Company is one of the businesses with a passion for zero-emission two-wheeling. Sporting some of the longest-range motorbikes on the market, the team is developing vehicles that are representative of the traditional industry, but also allow us to peer into the future.
But, even some of the greatest engineers will tell you that it's about more than just power and particularly when sustainability is a key focus point for organisations attempting to electrify motoring. From component sourcing, the zero-emission manufacturing, and everything in between, businesses must ensure that products perform holistically.
With the absence of one major fluid (petrol) Energica is working closely with partners to develop suitable solutions for its motorbikes. Collaborating with the global leader in high-performance e-motorcycles is PETRONAS Lubricants International, which has become its Racing America sponsor, and industrial partner.
"We're making history once again. Racing has always been in our DNA from the very beginning, and after making history in MotoE for four years, we accepted a new challenge alongside Tytlers Cycle Racing," says Giampiero Testoni, CTO of Energica Motor Company.

"What makes this even more incredible is to have a powerhouse like PETRONAS Lubricants International alongside us to lay a new milestone in motorsport history."

Tailoring business to meet electric vehicle needs
PETRONAS Lubricants International is specifically tailoring its developments to create fluids that suit electric vehicle (EV) applications, and a great testbed for its products is motorsport. This strand of work is known as PETRONAS Iona and produces lubricants for EV transmissions, cooling systems, and e-Greases. Energica is now recognised by the company as one of its chosen original equipment manufacturers (OEMs) that use its Fluid Technology Solutions™ in their electrified vehicles.

"PETRONAS Lubricants International is constantly exploring ways to support the rapidly developing EV industry, including in the motorsport scene," says Hezlinn Idris, Managing Director and Group CEO of PETRONAS Lubricants International.

"This partnership opens opportunities for us in the development of EV fluids that cover all types of electric vehicles including trucks, light commercial vehicles, passenger cars and motorbikes. It is a testament to our ability of customising bespoke solutions for the full range of fluid applications in electrified powertrains."

The business has made significant strides in its sustainability journey since it introduced Iona in 2019. Alongside this the company has implemented comprehensive initiatives to support electric vehicles, minimise environmental harm, enhance clean energy efforts, manage greenhouse gas emissions, and promote a circular economy.

These objectives align closely with Energica's vision and mission for a cleaner, more sustainable future of mobility.