McLaren Racing's EV foray into the Formula E motorsport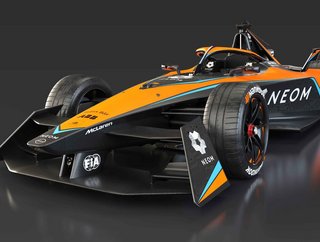 Zak Brown, CEO of McLaren Racing, and Rayan Fayez, Deputy CEO of NEOM, unveil latest EV livery marking the partnership and entrance into the motorsport
An invitation to the McLaren Technology Centre gave us the great pleasure of covering the press event at McLaren Racing. EV Magazine was able to share the moment the electric vehicles (EVs) for Extreme E and Formula E were unveiled, following the announcement of its partnerships with NEOM.

The partnership between the motorsports organisation and the Saudi Arabian smart city marks the beginning of a new era in the eyes of the CEO of McLaren Racing, Zak Brown, and Deputy CEO of NEOM, Rayan Fayez. Attendees were presented with the latest idealisation of a new, sustainable city, which will leverage new technologies like artificial intelligence to connect people and regenerate the environment.

Oxagon is the latest concept of the organisation, which will be supported by McLaren Racing as they look to integrate teams and share knowledge among the organisations. While this is not currently linked to the team's sustainability report, released in June 2022, much of the project is centred around sustainability—the new direction for the motorsports firm going forward.
"I didn't think it was gonna be electric racing," says Brown as he comments on the diversification of McLaren's racing portfolio.
"When Formula E first hit my desk pre-McLaren, I thought 'here we go, another racing series that's never going to get off the PowerPoint page."
"It was always my intention to diversify McLaren Racing—hence IndyCar—and continue to look at world endurance and that's what I love about McLaren, its racing lineage across different forms of racing. But given the importance of sustainability to us and where electric racing is going, that fits in really well with our diversification plan."

Driving EV technology and industry innovation
During a post-announcement discussion, Mark Mathieson, Leader Partner in the McLaren Accelerator, explained what the opportunity means for motorsport and surrounding industries.
"It's a fantastic opportunity. It's a clean sheet. If you look at Oxagon as a manufacturing facility, or region even, then I can't think of another occasion where you'd get that clean sheet. [A] chance to think about the future and map that out and sort of plan that through and then deliver it as well," says Mathieson.
His role in the partnership is about driving the McLaren Accelerator programme, which is the name given to the project that will support training and innovation sharing. The partnership was established between the firm and Sanofi, an innovative global healthcare organisation, to implement more technology solutions in the healthcare sector.
Its data-driven approach is something that has propelled its Formula One racing success and will now support well-being as one of the four pillars of its sustainability strategy.
About NEOM, a sustainable developer
With a futuristic outlook on sustainability, NEOM is a region designing sustainable living in Saudi Arabia. This includes The Line, a revolutionary outlook on urban living, Trojena, a mountainous region of NEOM, and Oxagon, which reimagines the industrial city.
This is a vision of the future. One where amenities are within a five-mile radius of all inhabitants and transportation adopts artificial intelligence to ensure timely, efficient mobility in a sustainable way.