Lexus presents EV concept built on circularity and digital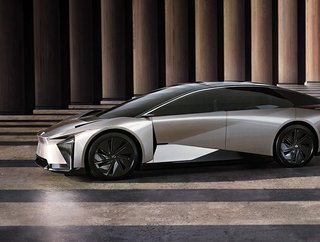 Toyota's Lexus unleashes its latest EV concept, the LZ-FC, with sustainability, circular features
Showcases at the Japan Mobility Show 2023, Lexus' LZ-FC represents sustainable luxury and retains its core brand, as explained by Simon Humphries
What is the point in building an electric vehicle (EV) concept car?
The build of an automotive prototype isn't just to showcase the creative design of an organisation—although a great way of doing so—but it also gives a direction to the innovations of the future.
The latest model to be showcased by Toyota's Lexus is just as fresh as those that came before it. Unveiled at the Japan Mobility Show 2023, Lexus' LF-ZC battery-electric vehicle (BEV) model is set for release onto the commercial market in 2026. The car will join the luxury car brand's lineup of EVs and is a proactive response to predicted consumer demands as more and more customers seek electric cars.
The name LF-ZC wasn't plucked out of thin air—it stands for Lexus Future Zero-emission Catalyst) and is designed as a catalyst for new experiences in the luxury car market, incorporating more dynamic driving in unique and futuristic design.

Lexus' sustainable, circular design principles
One of the standout features is made of bamboo. A fast-growing material with a high carbon absorption capacity, bamboo is one of the more sustainable plants to cut down and use for manufacturing interior car components. The plant grows at an average of one inch per hour—some species almost three feet per day—so there is no question as to why the material from the plant is incorporated into circular design.
By incorporating bamboo, not only is Lexus developing its vehicles more sustainably, but is also showing how this marries with high-quality, luxury finishes.
This also plays into the circularity strategy of its parent business Toyotal, which is accelerating the use of a fully sustainable system.
During the presentation of the vehicle at the show, Chief Branding Officer Simon Humphries said: When it comes to luxury mobility, Lexus was born a disruptor. Over the last 30 years, we've broken a lot of rules. We showed that automotive luxury could be decoupled from legacy and convention. We showed that highly personalised service could be a game-changer for the industry. And we showed that electrification could enhance the premium experience."
"Whatever the form, there will be no luxury future, without innate sustainability. A future where the better the car is for the planet, the better it is for the customer. Whether it is new carbon neutral materials that contribute to sustainable communities or a system, where one day mobility will play an active part in societal-level energy and data management."
*********************************************
EV Magazine is dedicated to creating a global community of businesses, experts, and EV enthusiasts with comprehensive insights into automotive and the surrounding sectors.
For more EV insights check out the latest edition of EV Magazine and be sure to follow us on LinkedIn & Twitter.
You may also be interested in Sustainability Magazine and Energy Digital Magazine.
*********************************************
Net Zero LIVE will be hosted live from the QEII Centre, London on the 6th and 7th of March, and streamed globally via our virtual event platform Brella. Net Zero LIVE London will feature four LIVE themes, incorporating Sustainability LIVE, EV LIVE, Scope 3 LIVE, and Energy LIVE to deliver a holistic conference and exhibition experience with opportunities to connect with like-minded peers and actively contribute to crafting a sustainable future. Following Net Zero LIVE, viewers can also sign up for Sustainability LIVE Dubai and Singapore.
Sign up to the The Global Sustainability & ESG Awards 2024, coming to London on the 11th September 2024.
*********************************************
BizClik is a global provider of B2B digital media platforms that cover Executive Communities for CEOs, CFOs, CMOs, Sustainability Leaders, Procurement & Supply Chain Leaders, Technology & AI Leaders, Cyber Leaders, FinTech & InsurTech Leaders as well as covering industries such as Manufacturing, Mining, Energy, EV, Construction, Healthcare + Food & Drink.
BizClik – based in London, Dubai, and New York – offers services such as Content Creation, Advertising & Sponsorship Solutions, Webinars & Events.