BYD profits cement its power position in the EV industry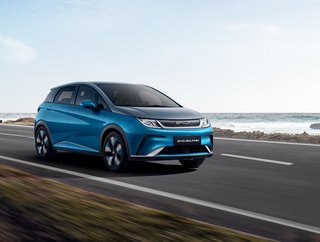 Credit: BYD | Image of the BYD Dolphin battery-electric vehicle
Backed by Warren Buffet and led by CEO Wang Chuanfu, BYD's latest profits show incredible growth, and competition against its EV industry rival Tesla
It seems rare these days to uncover news of BYD or Tesla without mention of them both. The majority of the electric vehicle (EV) industry trails behind them in terms of the number of cars they already have on the road, but also their exponential growth.
This is driven by their thirst to become conglomerates in the space—making access to battery technologies, components, and charging much more cost-effective by handling them in-house.
As Tesla became the inaugural leader in the electric car space, its position on the globe seems to hinder progress in cost reduction and sourcing, which is why its Chinese rival is taking the helm and steering many countries towards electric cars.
As a result, the company shares the update of more than 200% increase in its first-half earnings, which further declares its dominant position in the automotive sector's hybrid-electric and battery-electric vehicle (BEV) verticals.
This increase in profit follows an annual net profit of 400% and is the impact of a 73% increase in revenue.
Will BYD's growth be sustainable in the long-term?
Of course commercial growth is great, and it shows its increased proficiency in delivering high-quality, more affordable electric cars to customers, but will the growth in a Chinese automaker be sustainable on a global scale?
There is a huge emphasis at the moment on whether EVs are truly sustainable and China is seen to be one of the largest contributors to the overall global emissions figure. With more emphasis on the Scope 3 emissions produced from building these cars, the company will likely have to localise its sourcing and manufacturing in order to meet the needs of the global market. If BYD is to become the largest maker of affordable electric cars, historic supply chain practices won't guarantee Scope 3 compliance.
The company is already close to its primary competitor with bases in Europe and North America, which will encourage localisation of its global supply network. In May 2023, news spread that the company was scouting for locations for EV manufacturing in Europe, which ticked one box in this area.
In order to supply across new markets from local facilities, BYD must look to carefully manage procurement, particularly of lithium-ion batteries and their components. With a strong position in China in close proximity to the mountain of tech that supports the country's EV development, the challenge for the company is providing the same great products across markets where resources are not so accessible and, equally important, much higher in cost.
The growth of BYD is certainly one to watch and may act as a case study for expansive, sustainable EV supply chain development in years to come. More importantly, the company is driving others to think more about the cost of their vehicles and how they can localise production to reach consumers globally.
******
Further insights can be found on our website or click here to receive our newsletter with a constant feed of new stories every week.
EV Magazine is dedicated to creating a global community of businesses, experts, and EV enthusiasts with comprehensive insights into automotive and the surrounding sectors.
For more EV insights check out the latest edition of EV Magazine and be sure to follow us on LinkedIn & Twitter.
You may also be interested in Sustainability Magazine and Energy Digital Magazine.
Please also check out our upcoming event - Sustainability LIVE in London on September 6-7 2023.
BizClik is a global provider of B2B digital media platforms that cover Executive Communities for CEOs, CFOs, CMOs, Sustainability Leaders, Procurement & Supply Chain Leaders, Technology & AI Leaders, Cyber Leaders, FinTech & InsurTech Leaders as well as covering industries such as Manufacturing, Mining, Energy, EV, Construction, Healthcare + Food & Drink.
BizClik – based in London, Dubai, and New York – offers services such as Content Creation, Advertising & Sponsorship Solutions, Webinars & Events.