The IMI report suggests car makers need more ADAS training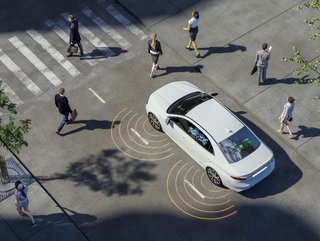 IMI: Addressing the ADAS skills gap
As cars enter the digital age in an electric vehicle (EV) format, ADAS is crucial for on-road safety, but are there enough skills to expand use cases?
A revolutionary approach to mobility is likely to highlight some crucial areas for change—whether that involves a shift in the supply chain or education (and re-education) of personnel.

A report from the Institute of Motor Industry (IMI) not only provides great insight into the technological skills gap in the automotive sector, but also acts as a warning to the sector that more training is required to ensure safety on the road.

Meeting the Demand for Skilled Vehicle Technicians in the Age of ADAS is a report that uncovers what advanced driver assistance systems (ADAS) actually are, as well as a selection of data to determine how the industry has responded to the overwhelming demand for these technology capabilities.

The report addresses some of the important details to be understood in order to make sense of the industry position, including the systems under the Level 2 autonomous bracket: adaptive cruise control (ACC), lane-keeping assistance (LKA), autosteer, traffic jam assistance, and automated lane change. These are some of the features found in the latest BMW, Audi, Mercedes, and Tesla models.

However, the primary point to be made in the report relates to the talent pool and the gap in knowledge when it comes to delivering ADAS systems on a larger scale—particularly when it is becoming a critical umbrella solution for safety on the road.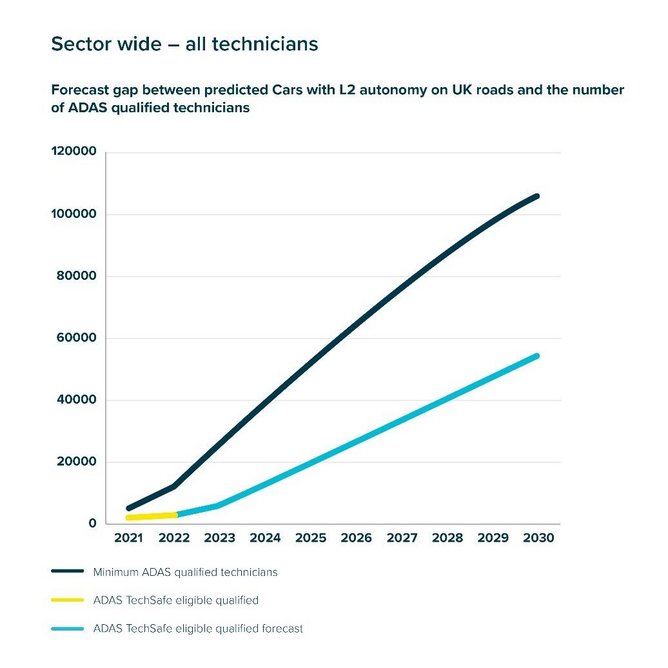 Credit: IMI - Level 2 autonomy skills gap
"Drivers are becoming accustomed to and reliant upon autonomous features on their vehicles," says Steve Nash, CEO of the Institute of the Motor Industry.
"Any failure could be catastrophic. For example, if a driver took a second too long to notice that their adaptive cruise control had failed on a motorway they could easily suffer a serious high-speed collision with the vehicle in front. It would be a similar story if Lane Keeping Assist or the Lane Departure Warning failed and a driver drifted into the neighbouring lane in front of a faster vehicle. The risks could be even higher for more advanced features such as Autosteer and Automated Lane Change."
The report states that 5% of the cars in the UK feature Level 2 autonomous solutions, which supports the acceleration, steering and braking of the cars. Currently there are only 3,000 technicians across the country with IMI TechSafe qualifications with a shortfall of 6,000 qualified personnel nationwide in 2023.
"It is no exaggeration to say that it is a matter of life and death that these technologically advanced vehicles are maintained only by fully qualified technicians. The skills [needed are] immediate with such a significant proportion of UK cars already using Level 2 autonomy. It is also critical to recognise the serious economic impact of the skills gap. A lack of qualified workforce means delays in vehicle repairs, undermining UK mobility."
Segments thriving in the automotive sector
Beyond the technical expertise required in the industry, companies that provide accident repair works seem to have a larger number of their workforce qualified in ADAS-specific areas. This is crucial for post-accident assessments and necessary repairs to digital-enabled vehicles.
"Autonomous vehicles rely on complex systems, including advanced electronics, sensors and software," says Nash.
"Without the necessary skills to diagnose and fix issues with autonomous systems, the safety and reliability of the vehicles cannot be guaranteed. Not only that, the increasing integration of autonomous technology in vehicles means that technicians need to have a deep understanding of how different systems interact and work together, requiring a commitment to continuing professional development to keep up with the latest advancements in the field."