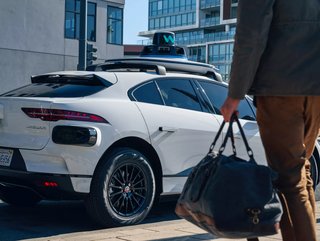 Person holding a bag walks towards a white car
Discover the top 10 autonomous electric vehicle solutions developers paving the way for a greener, smart-er future in the evolving automotive industry
10: Einride
As a trusted autonomous heavy-goods vehicle (HGV) innovator, Einride has developed an architecture that really leverages the battery-electric platform. Einride aims to offer autonomous shipping through electrified design and digital intelligence, packaged in a tractor and trailer combo leveraging data to keep fleet operators informed, and AI to enable seamless truck mobility.
Each truck is designed based on the battery platform, creating a uniquely shaped, remotely operated vehicle that is more versatile than any HGV in the ICE market.
9: May Mobility
The autonomous shuttle vehicle startup, May Mobility received particular interest from Toyota in 2019 as a major investor of US$50mn. In March 2023, the company launched a smart robotransit technology, equipping a Toyota Sienna minivan with its latest solution.
A single vehicle leverages five lidar systems, five radar inputs, and eight cameras to inform the vehicle of the surroundings, improving safety and pedestrian awareness for generations to come.
8: Pony.ai
In the running with some of the leading tech companies, Pony.ai is a Chinese developer of self-driving vehicle solutions that looks to compete with the likes of Waymo and Tesla.
Based in Beijing and Guangzhou, China, and Silicon Valley, US, Pony.ai is expected to dominate the market for autonomy in developing countries – where road systems and conditions vary drastically – with technologies designed for the toughest roads.
7: Zoox
Amazon pulled its very own purpose-built self-driving car out the bag to match the innovative capabilities of its technology industry rivals. Zoox brings a new architecture to the industry and is the epitome of driverless. Passengers are able to hop into the Zoox as if they would a metro bus or taxi and be transported city-wide in a safe, sustainable way.

6: Baidu
During CES 2019, Baidu revealed Apollo autonomous vehicles similar to the self-driving automobile developed by Argo AI. Through an open-sourced technology platform, Baidu is able to actively develop new self-drive technologies for its vehicle.
Baidu, which has launched its own robotaxi service in Hunan, is among a selection of companies in China with commercial licensing for self-driving buses.

5: Motional
Responsible for Uber's autonomous evolution, Motional is partnered with the rideshare business as the robotaxi enabler in Las Vegas. Motional was founded by Hyundai Motor Group and Aptiv, and is on a mission to change the way people move and, in doing so, has enabled one of the most intuitive solutions in the city that never sleeps – ironically gracing it with a solution that matches its vibrant, neon culture.

4: Tesla
Pioneers in the EV realm and one of the first, in-house, self-driving adopters, Tesla's solutions have been on the market for years and continue to develop as the team works to build autonomy into its cars. Known as 'Autopilot', Tesla's solution is an ADAS that enhances safety and creates a more convenient driving experience – reducing the overall workload of the driver while maximising their attention at the wheel.

3: Cruise
Cruise has a fleet of 300 self-driving cars and anticipates earning US$1bn in revenue by 2025. Founded in 2016 by the US automotive giant, Cruise began offering taxi service via entirely autonomous means in 2021 and continues to drive towards its goal.
GM has been particularly focused on developing technology solutions to meet careful requirements for safer road transport methods.

2: Mobileye
Mobileye is one of the pioneers of today's most revolutionary driving technologies. Leveraging a simple yet impactful camera-based solution, it takes a relatively inexpensive approach to autonomy. Mobileye has helped develop driver assistance solutions for over 100 million vehicles in its efforts to transform the industry into a fully automated system.
In March 2023, Mobileye was named the leader in autonomous vehicle technology by two industry reports – Guidehouse Insights Leaderboard: Automated Driving Systems and the first ever ABI Research Autonomous Vehicle Platforms.

1: Waymo
The Alphabet-owned autonomous driving specialist was created in 2009 as a business to bridge the gap to self-driving cars and robotaxis. As of March 2023, testing one of its autonomous EVs on the streets of Austin, Texas, to showcase the first prototype of its Waymo Driver – the Firefly.
The Waymo One ride-hail service is already available to the public in Phoenix, Arizona, and San Francisco, California, where they can enjoy the digital driving benefits on routes to and from the airport as well as trips around the Super Bowl.
Now, the company is testing its fifth generation of autonomous driver technologies in the Jaguar i-Pace.