BYD tops Volkswagen electric vehicle sales growth in China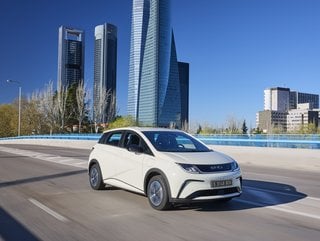 BYD is a major forced to be reckoned with as China's EV market grows.
China injects funds into its battery-electric vehicle market and BYD tops the German automaker Volkswagen as its EV business experiences more growth
Asia was the leading continent in electric vehicle (EV) development for a time, but now countries are producing their own battery-electric cars, there is more of a shift towards localised component-making.

In the battery realm, Tesla is developing its own as it looks to become the monopoly of its own vehicle supply chain and reduce the costs of building its much-loved EVs. Meanwhile, the company is yet to reach the level of affordability seen in China as organisations like BYD top the Chinese market growth thanks to their ability to produce electronic components at much lower costs—they've been doing so for many years.

It's likely that the country will accelerate its EV industry as further investment is set aside to encourage demand in the green car sector. Investing 520 billion yuan (US$72.3bn) the country's government hopes to boost the sale of EVs to bolster a softening demand for new cars in general.

Such a high figure for investment will encourage a spike in sales by enabling tax breaks for new energy vehicles (NEVs), when purchased in 2024 and 2025, which could allow 30,000 yuan or just over US$4,000, per vehicle.

As data shows, there is still major headroom for electric car sales despite the sale of 580,000 thousands alternatively fueled vehicles in April.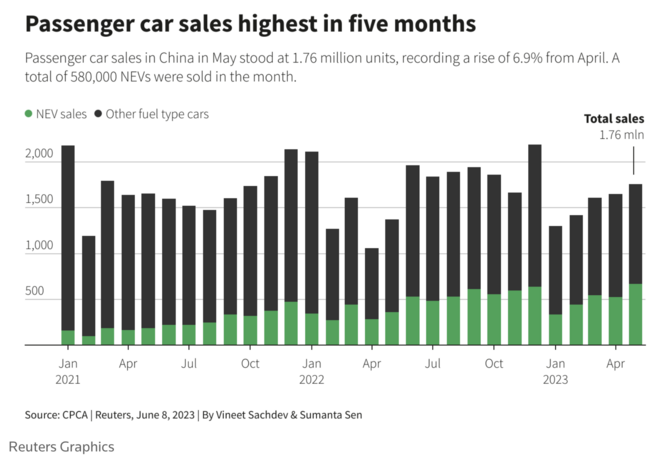 Credit: Reuters | Passenger car sales per month in China since January 2021.
Support for NEVs raises the bar for Chinese automakers
With heavy amounts of government-led support for the industry, the likes of Li Auto, NIO, and BYD have seen great success over the past few years—making the country a hub for low-cost, technologically advanced EVs.
NIO recently released an impressive mid-size electric sedan, the ET5 touring sedan, which is set for the European market. Meanwhile BYD is dominating the Chinese market and fending off Volkswagen as it tops the sale of its electrified vehicles in the country.
By capping the exemption of tax benefits for EVs, China believes this will support the cheaper market as consumers look to purchase more affordable vehicles for domestic use. In doing so, there will be less of an emphasis on premium cars from manufacturers further afield.
The actions taken by its government resulted in more strategies by local authorities to encourage EV adoption. For example, the government of Zengzhou is providing car purchase incentives totalling 50 million yuan (US$6.96m) over the summer months.