Bain says India's electrification relies on two-wheeled EVs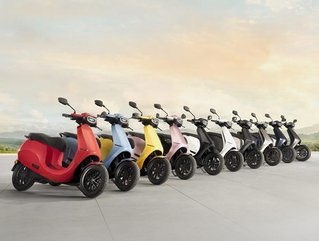 Government incentives and automotive intervention could be critical for India's EV market growth, which Bain says could be significant within the decade
The EV transformation is on the global agenda, but India is one of the countries that will have to adopt a different approach to decarbonisation.

The business consultancy firm, Bain & Company estimates that two-wheeled EV adoption will grow to around 40% to 45% by 2030, and four-wheeled passenger vehicles will take up a 15% to 20% share. This is the equivalent to 13 million new bikes, mopeds, and other two-wheeled machines, and one million new cars.

Besides the inherent sustainability benefits the country would see during the period, there is also a significant amount of economic growth to be seen with around US$76bn to US$100bn cumulative revenue available, and US$8bn to US$11bn in profit across India's EV value chain.
Bain predicts major EV growth on the horizon
The company believes India's EV industry is at an 'inflection point' as with the above figures comes acceleration of the country's automotive industry. But, what does India need in the process?

Government incentives will be crucial in this phase of decarbonisation across India, with the country's central and state governments offering more support to suppliers and consumers to encourage mass growth of EV adoption.

These incentives include:
Faster Adoption Manufacturing of Hybrid and Electric Vehicles (also known as 'FAME'), which is a scheme that offers consumers financial support when choosing to switch to an EV. The FAME II initiatives helped finance electrification with US$1.1bn in demand-lead incentives, which bridged the financial gap between EVs and ICEs.
Production-linked incentive (PLI) schemes, which are led by the central government to drive cell battery storage and local manufacturing of battery-cell technologies.
Reducing rates of Goods and Service Tax (GST) and implementing road tax waivers that are supplemented by the state to direct further investment into the industry for fleet adoption and charging infrastructure development.
The role of OEMs in India's electrification
The leading manufacturers are already selling their products to the Indian market. In early-2023, Audi released insight into its Indian growth, reporting at 27% increase in vehicle sales year-on-year.

On top of this, one of the country's leading technology innovators and automotive developers, Mahindra Group announced last year its entry into the EV market with a range of new cars in two new brands.

While government incentive is a critical aspect of growth, the onus is on carmakers to support the industry wherever possible, with electrification in India on their strategic horizon.
It's in the best interests of automakers to ensure that customers are ready and willing to switch to electrified vehicles, especially in an area of the world that is falling behind on electrical infrastructure.
However, over the next few years, we're excited to see how some of the leading two-wheeled vehicle manufacturers grow to offer India's primary source of e-mobility.