How does a large hire fleet cope with a lack of EV chargers?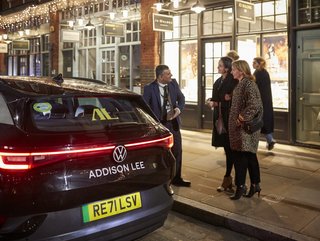 Drive and passengers entering an Addison Lee Volkswagen ID.4 EV
The EV charger network is developing, but until it reaches a more suitable capacity, fleet operators can still address their need to switch to ZEVs
Electrification can enable a much smarter approach to how fleets operate. Aside from the inevitable sustainability benefits, fleet operators are now looking to leverage the extensive digital capabilities inherent in EVs – which is why it's so important to learn how established firms are facilitating such a change.
The challenges are clear, but the main one is trust. Organisations are aware of the emission reduction benefits, the efficiency gains, and safety mechanisms that electrified vehicles provide, but it seems there is more to the conversation than simply saying 'out with the old and in with the new'.
To find out how electrification impacts the approach of a large electrified fleet, Andrew Westcott (AW), Director of Sustainability and Regulation at Addison Lee, delves into the company's sustainable transformation and the challenges in reaching its goal of a zero-emission fleet.
With four major services offered to a varying degree of clients, Addison Lee is a big name in London and is working to electrify all of its private hire fleet and black taxi services across the city.
In its efforts to navigate the ZEV policies evolving in London, Addison Lee made a significant pledge to electrify its fleet by the end of 2030. Despite having multiple EVs to choose from, the company settled on a single model, the Volkswagen ID.4, as its replacement for internal combustion.
Immediately, it became apparent that partnership with Volkswagen played a critical role in not only selecting a vehicle, but providing training and support to make the most of its functions, from an operational perspective, and to maintain its high-quality service to clients.
Leveraging the expertise of Volkswagen is critical for the business to understand all functions of a potentially alien automotive format, but, realistically, to understand the EV's capabilities in an underserved area for public charging.
On the subject of charging, Westcott expands on this, pointing out how it affects the operation of Addison Lee's fleet.
This is testament to the approach that fleet operators must take to ensure that electrification is successful. While many organisations advocate the benefits of EVs, such as the increased digital integration and efficiency, these are not achieved without the adoption of a problem-solving mindset.
Range anxiety is a challenge faced by many fleets, but the reality comes when they learn how to best use their EVs in the optimal way. To reap the benefits of EVs, drivers will be allowed time and the tools to manage their charging effectively – whether this involves overnight or daytime charging.

Overall, there is a key emphasis on partnerships. The success of Addison Lee can be somewhat attributed to its support from Volkswagen in the onboarding process.
"When we first introduced the EVs – that first kind of cohort, those pioneers if you like who adopted the vehicles – they worked with VW and one of the dealerships worked with the drivers and showed them how they had to test vehicles," says Westcott.
"They showed them how to drive it, they showed them recharging methods – how to drive the car efficiently and economically. So they were really supportive of that."