Charging & Infrastructure
What comes first, electric vehicles or charging networks?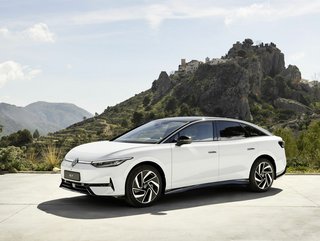 The Volkswagen ID.7 awaits its entrance in the wider electrified network of cars
Volkswagen believes reduced governmental subsidies impacts sales, but Germany's EV charging infrastructure could rise from new dedicated investments
The big question that hangs over the automotive industry is whether electric vehicle (EV) sales can grow without adequate charging, and, on the flip side, whether charging infrastructure is mature enough to handle the demand.

Recently, the German EV industry has seen more attention on charging networks and the country set aside €900m (US$983m) in funding to expand infrastructure. The subsidies resulting from this funding will go towards homeowners looking to install home charging points as well as businesses.

Currently operating 90,000 charging stations nationwide, Germany is seeing a transition of interest by the government as it invests in further infrastructure developments to support around 1.2 million all-electric cars on its roads today.

It seems the shift of subsidies could impact the nature of the transition across the country. The news of Volkswagen cutting its production, and therefore laying off staff, could suggest that Germany is having to navigate the demands carefully—or the demand for electric cars hinges on government subsidies.

Nevertheless, Volkswagen is confident that sales will rise again.

"We are confident that demand for all-electric cars will pick up again as the year progresses. With the extensively revised ID.3 and the new ID.7, we continue to launch attractive new models," the company reported.
Global demand for Volkswagen's EVs
With a £10,000 (US$12,670) increase in price just for going electric, consumers that wish to make the shift to an EV are faced with a significantly higher cost in doing so. They must weigh whether their current situation warrants an initial investment—for many this could be supported by a lower rate of charging from their plug-in points installed at home.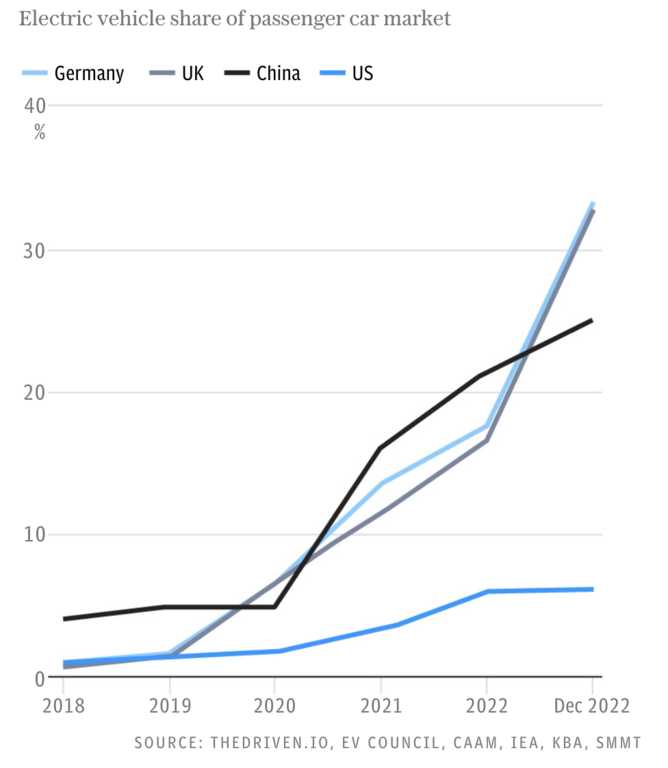 Data shows the trends in EV industry growth across regions
Seeing an increased share of the overall passenger car market, EVs are on the rise, but fluctuating across different regions. Of course, with China being the leader in manufacturing more affordable vehicles, its steady growth continues with restraints on its US expansion.
Meanwhile, Germany and the UK saw major growth over the past few years with its main spike in 2022 taking the countries from below 20% share to almost 35%.
It's likely that the sale of EVs in Germany will see a slight reduction as the country injects more funds into its charging network. Up to €500m will be made available in Autumn and go towards private residential settings to promote self-sufficiency with electric cars at the heart.
Following this, €400m is earmarked for the Summer of 2024, which will help the country deliver more fast-charging solutions for commercial vehicles.