Stellantis says affordability is crucial for electrification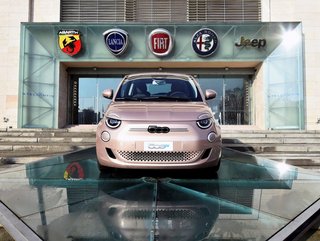 Fiat 500E and all Stellantis brand logos
General trends show that fuel prices are falling, which presents an important challenge for electrification as consumers want EVs to be more affordable
For those who are not blessed with a higher income, electrification just isn't possible right now. While many of the advocates we have spoken to are committed to changing this, the problems lie deep within the supply chain network as components remain expensive and energy is at an all time high.
We can safely say that sustainability is an important factor for those looking to switch, particularly when more and more drivers and homeowners are looking to claw back their impact on the planet. The impacts of available electric vehicles (EVs), once adopted, seems to have a spiralling effect on their efforts to change the way they consume energy.
In fact, research from Zap Map and Good Energy shows that, in the UK alone, EV drivers are seven times more likely to have solar panels installed on their homes. This same study conducted with more than 4,000 respondents shows that 10% of drivers have their own home battery energy storage systems to capture energy that is now in use—effectively allowing them to charge for free.
This is the picture that we and many industry executives wish to paint of the future of electrification—EV owners reaping the benefits of renewable energy at home. But, this is still a long way from fruition. Especially as fuel prices seem to be retracting and consumers are drawn toward the most cost-effective options to combat their high energy bills.
Much of the focus is on the roadside—reducing the cost of powering a vehicle by means of roadside services. In particular, many potential EV drivers are focused on the horror stories of public charging woes and high costs in comparison to fuel.
The issue here is, as Carlos Tavares, Chief Executive Officer of Stellantis, explains:
"The most significant problem of electrification is the affordability for the middle classes.
"That's what we are now fighting against—how fast can we reduce the costs to bring the EV to the level of affordability that people can pay for without subsidies?"
How will the EV industry lower the cost of the switch?
Firstly, without government subsidies and other incentives, the onus is on the industry to come up with a way to reduce the cost of electrification.
It's going to be a slow but steady process, which is already underway and incorporates input from various stakeholders further up the supply chain.
For any of this to be feasible, purchase cost must come down. At present, all EVs enter the European and North American markets at premium car prices, which is unaffordable for the majority—whether that means purchasing or leasing an electric car.
Using the Fiat 500e as an example of secondhand automotive sale, the current cost of one in the preowned market ranges from £20,000 to £30,000, depending on the specification and the site it is purchased from.
A typical internal combustion engine (ICE) model ranges from £1,500 to around £18,500. While less sustainable—and inarguably less advanced than the latest models—the electrified options are nowhere near the buying price that it should be to encourage those with stretched budgets to make the switch.
Teaching consumers the benefits of EVs
The second point to make is around education. The majority of consumers are yet to understand how to exist with an EV instead of a conventional car, which is why many of them are reluctant to switch—the majority of this argument revolves around public charging costs and availability.
However, there are services today that can teach more consumers about the benefits of EVs, making them more aware of the available options and the charging processes they would need to consider when travelling long distances. This is something that is carefully explained by teams at GRIDSERVE Sustainable Energy Limited who are committed to influencing more drivers to electrify.
Encouraging the switch with digital experiences
The connected car is what will provide consumers with more intuitive and convenient solutions. Organisations are already seeing the benefits of technology when it comes to reducing energy consumption at home and optimising the experience for drivers at public charging points. This is one of the pros that will tackle scepticism around public charging, by creating a painless experience for any car owner.
The safety aspect is also to be considered as autonomy is set in motion. What we can expect to see in the future are more and more self-driving capabilities and even fully-autonomous vehicles roaming the roads, connected to infrastructure in the fashion known as 'vehicle-to-everything' or 'V2X'.