Charging & Infrastructure
All EV owners can use Tesla's Supercharger infrastructure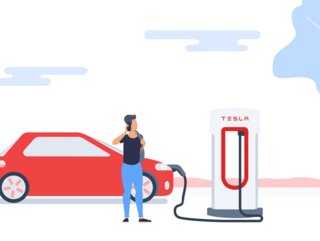 Tesla Superchargers are now available to non-Tesla drivers
The non-Tesla Supercharger pilot programme cements the company's efforts to double-down on EV adoption to limit automotive's effect on climate change
One of the main hurdles that electric vehicle (EV) drivers previously faced was related to compatibility.

As more and more drivers opt for electrified vehicles, the charger network has some catching up to do, in order to stay ahead of the curve. But, if charging points are limited to one brand of car, this mitigates a whole new capacity for EV adoption.

This is why Tesla's non-Tesla pilot is so critical to the future of e-mobility as it gives car owners even more options for charging their vehicles—access to an extra 40,000+ stations in many cases.

Yes this means that Tesla drivers will no longer have exclusive access to the company's charging facilities, but overall the effects on the overall customer base could be significant.
The choice by Tesla is not only to keep up with competitors in the charging industry who offer their services to all EV owners, but to accelerate its commitment to a net-zero climate, by ensuring there are ample options for all.
Of course, the cost to the consumer is the adapter as Tesla uses its own plug for its EV models, however, that doesn't seem to stop drivers from seeing this for themselves. In the US, the programme has experienced great excitement among electric car owners. Tesla's charging stations have seen various cars, including the Rivian R1T and the Ford F-150 Lightning pulling up and plugging in.
One of the major upsides to drivers was the customer experience, in particular the ease of using the Tesla Supercharger. Drivers of non-Tesla vehicles say they were astonished by how simple it was to connect to the infrastructure.
More electric vehicles coming from Tesla
In further Tesla news, expansion to the Mexican city of Monterey is confirmed—announced by the President of Mexico, Andrés Manuel López Obrador.
The announcement marks a success for the company and Mexico as the conversation follows doubts over whether the project would go ahead. However, the battery manufacturing portion of its plans are still on hold.
In this process, Tesla's investment marks a leap into the country's EV market, following billions of dollars of green subsidies supplied under the Washington Inflation reduction act. The US wants to make use of such investments as the US President Joe Biden says legislation has caused tension in Europe.