Zero-emission vehicles for the harshest environments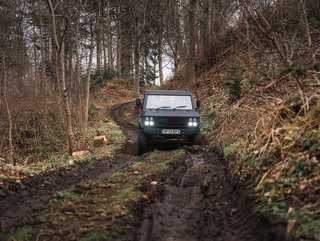 Zero-emission vehicles for the harshest environments
Does the Munro MK_1 top its ICE competitors when it comes to reliability and performance in the toughest environments?
A major task involved in energy transition is answering questions. How will we charge? Will EVs meet our range requirements? What about those in rural areas?
Although urbanisation has helped to develop settlements into fully-fledged towns and cities, or connect distant areas via road networks, there still remains around 35% of the global population that live and work in rural areas.
Bringing cars into the electrified digital era is all well and good, but sometimes infotainment, holographics, additional comfort – they're all just too much for the user. Car companies often think about the must-have technologies, but, realistically, there's a vast swathe of people that just want to use their EVs to travel anywhere, anytime.
Sure, there's an abundance of space for technology and its uses, and the idea of instant torque is a dream for many drivers…but what about off-road capabilities?
"Traditionally iconic 4x4s, which for years were the off-road vehicle of choice for commercial and private users, are no-more. They have been retired and replaced with more modern, car derived vehicles positioned as lifestyle choices and luxury vehicles," says the Head of Sales at Munro, Marcus Mackle.
"For fleets with off-road needs and private enthusiasts, these modern vehicles no longer provide an equivalent level of capability. They are seen as a commodity: cheap and frequently replaced when they break, which they inevitably do even outside the harshest of operating environments."
The key point here for Munro being "the harshest of operating environments", which paints a picture of what the company is all about: catering for a market that wants the durability and longevity that, historically, off-road vehicles have provided.
A great example of rugged vehicle design can be found in the likes of the Land Rover Defender and its variety of models, which is built for function and, despite its diesel propulsion, has provided customers with service to this day.
Cue Munro: a solution to meet the needs of commercial fleets and customers alike facing tougher environments.
"Every large fleet faces the challenge of electrifying their vehicles and machinery," says Mackle.
"The drive to decarbonise, particularly in heavy and carbon-intensive industries – coupled with ESG pressures and a desire to take advantage of the lower cost of ownership of EVs – means commercial fleets, landowners and operators are without an option. They're crying out for a true 4x4 that's all-electric and zero emission. This is why Munro exists."
The ability to meet the demands of a sustainable future doesn't necessarily hinge on the luxuries and autonomy that electrification brings. While there are many use cases for autonomous vehicles and self-driving cars to allow more comfort for extended journeys, there's still demand for the basic functions.
Countries like Scotland, Australia, Canada, and the African continent, among others, are able to provide crucial services with the vehicles they have today, but it's great to recognise that an EV can provide them with the same great capabilities – and it does that with zero emissions. All that's left is to ensure that vehicles are able to charge and retain their power in the most rugged settings.
"Charging infrastructure in the UK is evolving rapidly and this will aid the integration of Munro technology into rural environments even more so than currently possible," says Mackle. "Home charging stations are becoming a popular choice of home improvement with many incentives on the market, for end users/operators of the Munro this is a huge benefit too."