Become an electric vehicle convert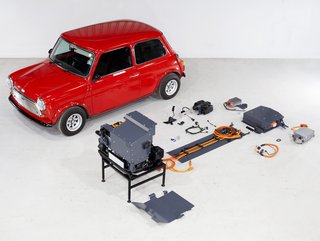 Become an electric vehicle convert
Conversion is a new concept for enabling zero-emission propulsion in older cars, but how would such a solution fare as a fleet option?
Having seen many scenarios where ICE cars are preserved or even resurrected by means of electric conversion, it's about time we think about its applications across industries where switching to EVs is becoming the next big step.
From the development of an electrified Aston Martin DB6 by Lunaz Design, to now welcoming businesses into the arena that deals with conversions and even offers full kits for swapping out fossil-fuel power for all-electric – this is what sparked a need to cover ICE to EV conversion, as well as its applications among large vehicle fleets and operations.
"The conversion of fleet and logistics vehicles to electric power presents numerous applications and benefits in transportation and logistics," says Chris Hazell, Co-Founder and CEO at Fellten—an organisation developing kits to convert classic cars from ICE to electric.
"The potential applications are vast, focusing on light to medium-duty pickup trucks and utility vehicles, ranging from urban and last-mile delivery to large infrastructure industries (tunnel building, mining, etc.)."
It all comes down to cost
Of course, converting a fleet of vehicles would be a major adaptation in itself, but the cost of doing so may outweigh that of buying commercial electric vehicles. Currently, the cost of purchasing an EV is significantly higher than its fossil-fuel-powered equivalent in the conventional class of models.
Taking the example of the Ford Transit, one of the most popular commercial vehicles on the market, we can see the purchase price of the vehicle is around £36,000 (US$44,765) for the engine-powered model – but the base level electrified version starts at £45,000 (US$56,000).
Taking this factor into account, it wouldn't come as a surprise to see more vehicle retrofitting services to provide lower-cost EV adoption alternatives.
"Retrofitting delivery and specialised or custom-equipped light-duty vehicles typically costs less than purchasing new electric vehicles and equipping them with new, to-be-designed, special accessories (Ambulances, military, mobile workshop, etc.)," says Hazell.
"The retrofitting allows for the continued use of already-owned assets. This approach reduces waste, promotes resource efficiency, and helps extend vehicles' lifespan. Retrofitting also offers a high degree of flexibility and customisation."
There are, however, some other factors to consider with aftermarket solutions, the first couple being the value of the vehicle and insurance premiums.
Much like any other modification to a vehicle, it's yet to be recognised how retrofitting fleet vehicles would affect insurance and the overall sale value. What could potentially be a cost-saving option may also present repercussions, as assets may be valued much lower if they have been altered from their factory architecture.
A further point to be made here is whether car makers will be able to provide conversion kits to garages as the majority of EVs are now based on a different architecture – with batteries in the floor and the difference in weight between EV components and ICE.
Eliminating the possibility of autonomy?
This would also throw out questions related to autonomy and the ability to integrate converted vehicles into a wider strategy for autonomous fleet operation, which is a trend that continues to grow among fleet managers. The latest vehicles are not only enabled for connectivity, but, at organisations such as Waymo and Einride, they are leveraging more and more autonomous capabilities to bring their vehicles closer to driverless.
This may not be a concern for businesses that also wish to reap the benefits of AI as more and more businesses are adopting new technologies to enable autonomous functions. Perhaps this will pave the way for bolt-on autonomous solutions for the commercial environment.
Nevertheless, this is a point for the future as the initial dilemma that companies are faced with requires them to change the times and incorporate electrified or other zero-emission formats into their fleets. Speaking of alternatives, battery-electric power may not be the only option.
The birth of the hydrogen fuel-cell vehicle has only sparked questions around the use of the fuel, which, if managed correctly, could prove to be another alternative to fossil fuels with zero carbon emissions.
Hydrogen-powered vehicles can not only operate on lower quantities of richer hydrogen fuels, but they also allow combustion at lower temperatures. Hydrogen is lighter than conventional fuels and has an incredibly high gravimetric energy density – which, in layman's terms, means it weighs a lot less.
However, the volumetric weight of hydrogen influences another problem: the quantity of fuel required to increase vehicle range. Retrofitting hydrogen storage could present as the major hurdle in converting fossil fuel cars to hydrogen-based ones. Car makers may also struggle to convert cars to hydrogen that are not factory-fitted with direct fuel injection, which is a suitable form for hydrogen, but very new in the automotive market. Without this type of injection, hydrogen cars run the risk of pre-ignition, presenting as one of the major safety concerns among manufacturers.
So there are certainly some options to be considered for fleet vehicles, particularly as electric and hydrogen conversions are already in research and development, but time will tell whether these options are feasible – at least until the cost of new EVs is reduced.