Uber: EVs at the forefront of global sustainability strategy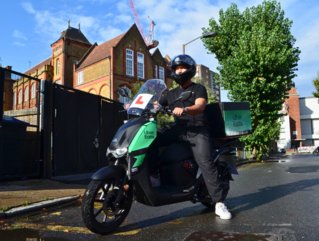 Uber Eats partners with Zoomo. Credit | Uber Eats
Uber will be zero-emission & low-waste by 2040, using increased EV uptake to achieve sustainability commitments, shares Matthew Price, Uber Eats GM
Founded in 2009, Uber took over 42 billion trips and—the world by storm—and is now operating in over 70 countries and 10,000 cities.
As part of its sustainability initiative, Uber's Green Future programme provides access to resources valued at US$800m to help hundreds of thousands of drivers transition to fully electric vehicles by 2025 in Europe, the US and Canada.
By 2030, Uber has committed to:
Operating as a zero-emission mobility platform in the US, Canada and European cities.
Ensuring food delivery trips in major European cities are emission-free
Transitioning 100% of Uber Eats restaurant merchants to reusable, recyclable or compostable packaging options globally
By 2040, this commitment extends to 100% of trips and deliveries globally being facilitated by zero-emission vehicles or taking place through micro mobility or public transit.
Uber Eats utilises electrification to drive sustainability
Uber Eats was created in 2014 by Uber and is now active in over 500 cities.
The food delivery specialist has partnered with Zoomo, a global leader in last-mile electric fleet solutions, to enable couriers who use Uber Eats to access discounts on the rental cost of high-quality E-mopeds.
Zoomo is a full-service commercial micro mobility platform founded with the mission of electrifying every urban mile. Zoomo's platform encompasses light electric vehicle hardware (e-bikes, e-mopeds & e-cargo Bikes), telematically enabled fleet management software, a global servicing network, and a finance offering. Zoomo currently provides solutions for companies including Doordash, Amazon, and FedEx, operating in Australia, the United States, Canada, the United Kingdom and Europe.
"We admire Uber's commitments to reduce the carbon footprint of food delivery trips," shares Nicolas de Juniac, who has been UK General Manager at Zoomo since 2021, before which he held positions at companies including Deliveroo, McKinsey & Company and Boston Consulting Group.
"By joining forces with Uber Eats to enhance courier access to E-mopeds, we're not only taking significant strides toward a greener delivery landscape but also setting the stage for a more sustainable and efficient industry - and this is just the beginning."
"We're excited to work closely with Uber Eats, growing our partnership and leading the charge toward a brighter, eco-conscious future, all while empowering valued couriers. It's a win-win-win partnership: for the environment, for our riders, and for Zoomo."
Through the partnership, both Uber Eats and Zoomo aim to contribute to London's sustainable delivery and transport ecosystem.
Transportation is the largest emitting sector of carbon emissions in the United Kingdom, and e-mopeds aim to provide a sustainable alternative to essential food delivery.
To help tackle the emissions generated by food delivery, couriers who use Uber Eats will receive a discount on the rental cost of high-quality E-mopeds in the initial month of sign-up, making the E-mopeds accessible at just £149 (including insurance) via Zoomo.
"I am delighted to be expanding our partnership with Zoomo to offer high-performance e-Mopeds to couriers in London," Matthew Price, General Manager of UK, Ireland and Northern Europe Uber Eats. In the role, Price is responsible for leading Uber's delivery business in over 330 cities & towns, while partnering with more than 61,000 restaurants & merchants.
"It is our goal to be emission free in London by 2030 and globally by 2040, and with this partnership we are moving towards that goal."
*********************************************
EV Magazine is dedicated to creating a global community of businesses, experts, and EV enthusiasts with comprehensive insights into automotive and the surrounding sectors.
For more EV insights check out the latest edition of EV Magazine and be sure to follow us on LinkedIn & Twitter.
You may also be interested in Sustainability Magazine and Energy Digital Magazine.
*********************************************
Net Zero LIVE will be hosted live from the QEII Centre, London on the 6th and 7th of March, and streamed globally via our virtual event platform Brella. Net Zero LIVE London will feature four LIVE themes, incorporating Sustainability LIVE, EV LIVE, Scope 3 LIVE, and Energy LIVE to deliver a holistic conference and exhibition experience with opportunities to connect with like-minded peers and actively contribute to crafting a sustainable future. Following Net Zero LIVE, viewers can also sign up for Sustainability LIVE Dubai and Singapore.
Sign up to the The Global Sustainability & ESG Awards 2024, coming to London on the 11th September 2024.
*********************************************
BizClik is a global provider of B2B digital media platforms that cover Executive Communities for CEOs, CFOs, CMOs, Sustainability Leaders, Procurement & Supply Chain Leaders, Technology & AI Leaders, Cyber Leaders, FinTech & InsurTech Leaders as well as covering industries such as Manufacturing, Mining, Energy, EV, Construction, Healthcare + Food & Drink.
BizClik – based in London, Dubai, and New York – offers services such as Content Creation, Advertising & Sponsorship Solutions, Webinars & Events.