Sustainable performance and EV innovation without compromise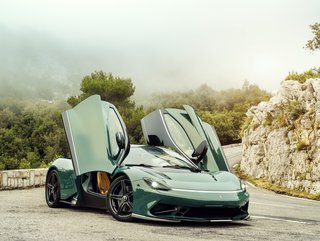 Before we know it, fuel-powered supercars will be monuments of the past, but electrification doesn't mean compromise for drivers or their manufacturers
The high-end automotive industry is one that showcases the luxury and performance that can be achieved when modern engineering is combined with technology. With cars costing millions and reaching speeds of more than 200mph on the track, the fossil fuel-powered industry is one that will undoubtedly be missed by lovers of roaring V8 engines and 12-cylinder-screams of petrol-powered hypercars.

Why will it be missed? Where is the industry going?

Electrification is cleaning up the industry. Petrol and diesel are expected to fold, allowing sustainable propulsion solutions to take over. It's already happening as high-end vehicle manufacturers redesign luxury with sustainable materials and reimagine speed with the latest innovation in battery-electric power. New companies are making their mark while existing organisations are reevaluating what the supercar means.

This isn't just a major shift for the buyers of such powerful machines; it affects the manufacturing processes and skills required to develop such vehicles, too. As a result, automotive manufacturers are shifting their focus from traditional engineering operations to autonomy and innovation, leveraging technology and data to create supercars like we've never seen before.

One of the major catalysts of electric supercars—and the producer of the first to hit the streets—Rimac Automobili is now one of the biggest-name car manufacturers, having delivered the first finished Nevera to former Mercedes-AMG Petronas Formula One driver Nico Rosberg. The car showcases years of revision and technical innovation and, through doing so, the company expanded its operations as the Rimac Group, releasing Rimac Technology as a separate entity under the company's ownership.

Not only does the organisation showcase the best of EV innovation, but it also emphasises partnerships for facilitating the switch to all-electric. In the process of making the Nevera, Rimac Technology is also known to have worked with other original equipment manufacturers (OEMs), including Porsche, Hyundai, Kia, CUPRA, Automobili Pininfarina—an Italian carmaker founded in 1930—Koenigsegg and Aston Martin.
What defines an electric supercar?
There is an interesting discussion to be had around supercars versus hypercars and what it is that differentiates them. By definition, any car achieving 1,000 brake horsepower (bhp) is classed as a supercar, but the EV models in this category far exceed the norm.
Not just that, but all of the electric supercars in development in 2022 almost meet, if not exceed, the 2,000bhp mark, which is one of the greatest characteristics of EV. Achieving high levels of torque with a single gear ratio makes acceleration the unique selling point of an electric supercar—beyond their zero-emission capability. Lotus is one organisation that has not only developed a car of this calibre, but is making the transition away from a traditional, fuel-powered racing history.
With development and testing facilities based in Norfolk, UK, Lotus Cars is known for manufacturing small, nimble road cars designed with track racing heritage.
One of two EV offerings, the Lotus Evija defies all preconceptions of electric propulsion and leverages a hyper-ventilated body moulding into its sleek design to achieve 'break-neck' speed. It's certainly built for those who love to drive and shows that exponential speed can be achieved through electrification. Racetrack handling, as well as efficiency benefits, are enhanced as well.
Through its Vision80 strategy, created in 2018, Lotus has mapped out its transformation to all-electric, which is scheduled for completion by the company's 80th birthday in 2028—allowing the company to strategise 10 years ahead of its current operations.
"The global transformation of Lotus is progressing on track and in tandem with the global transformation of the automotive industry to electrified powertrains," says Matt Windle, Group VP and Managing Director of Lotus Cars.
"Through Vision80, we have the opportunity to deliver pioneering vehicles that showcase everything that's great about Lotus: the technical innovations, the commitment to excellence, the outstanding quality and the beautiful new cars that are on the way."
"We've just launched one SUV, the Eletre, and we've already announced that another is coming, plus a four-door performance saloon and a new sports car. All of these vehicles will be pure electric, and will have 'Lotusness' at their core – that means outstanding ride and handling, amazing performance, optimised aerodynamics for maximum efficiency and stunning design," says Windle.
Slowing climate change while speeding up mobility
Supercar innovation these days represents something more than just power-hungry vehicles and immense speed. At a time when consumers are slowly coming around to the idea of sustainability, electric supercars are prime examples of the fun to be had with low or no contribution to greenhouse gas (GHG) emissions vehicles.
Many drivers are conditioned by the senses, meaning that the sound, smell and feel of a fuel-powered vehicle all represent speed; however, the pace at which the EV industry is changing opens up alternative benefits to drivers, particularly those with deep pockets and a sustainability conscience.
"Now more than ever, as we transform to become a global pioneer of electric performance vehicles, we recognise our responsibility to do so in ways that lead our industry in minimising its impact on the environment," says Windle.
The climate impact of electric supercars is now measured in a different way, as OEMs consider the emissions they produce from manufacturing, the sustainability of their suppliers and the circularity of their vehicles. As such, the development of high-end, high-performance vehicles in a more sustainable way acts as a benchmark for the mass-production of vehicles.