Normet Canada takes battery-electric vehicles underground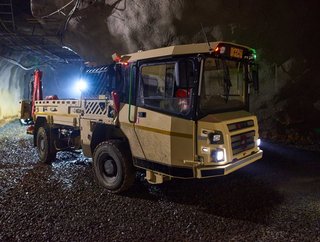 Improving safety underground and sustainability of mining operations, Normet implements smart technology solutions to operate battery-electric vehicles
Mining is one of the critical industries that enables the automotive industry's shift to battery-electric vehicles (BEVs), but the process must come full circle. As BHP adopts electric utility vehicles for its mining operations, Normet will play a key part in ensuring they are accepted safely and integrated into its mining operations sustainably.
The company was awarded the contract from BHP to lead digitalisation of its vehicles at its Jansen Potash Project, located in Saskatchewan, Canada. Normet secured the order for BEVs from the leading mine operator as it aims to develop its underground mining capabilities using the latest equipment and automation solutions with sustainable built in.
The goals surrounding this innovation are emissions reduction, improved productivity, and advanced health and welfare of its large-scale workforce, which incentivised the adoption of EVs as the firm looks to eliminate the use of natural gas across its operations.
Thanks to these solutions, supported by the great work of Normet, BHP is expected to halve its carbon dioxide emissions per tonne of product, in comparison to other potash mines in the region.
Normet provides SmartDrive technology for BEVs
The automation technology firm is a critical partner for major mining companies thanks to its intuitive SmartDrive solution and other technologies for mining applications. SmartDrive is a modular solution that empowers BEVs and is designed to optimise energy consumption and improve vehicle performance for underground tunnelling applications.
The SmartDrive architecture leverages the latest lithium-ion battery technology with fast-charging capabilities. In a challenging environment, power is important and Normet solutions use high-torque electric motors to provide instant torque, which is one of the components that increases vehicle efficiency in underground mines.
The technology firm is determined to provide options for all mining processes and as a result, it has designed and engineered various solutions to suit the needs of mining companies in the most challenging environments.
The process applications of Normet products cover underground concrete spraying, charging solutions, lifting, and rock and ground support.
BHP commits to electrification
The mining giant holds a high stake in the automotive industry as it transitions to EVs. As mining comes under pressure to produce more precious metals and other minerals, BHP is committed to meeting the needs of the industry as it grows.
As the company watches the number of EVs grow, it expects to surpass 700 million by 2035 and reach 1.6 billion by 2050. In the event that its calculations are accurate, significant increase in mining activity will be required to ensure a successful transition to EVs.