Foxconn releases EV technology to dominate half the market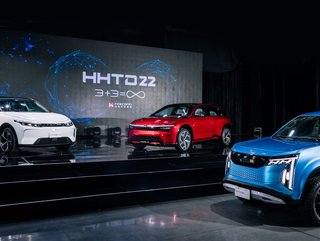 At a launch event for its Model B, Model V, and HHEV.OS software, Foxconn announces plans to be one of the leading Electric vehicle providers in the world
The technology manufacturer with a stronghold in mobile and electric vehicle (EV) components is planning to take over half of the global sales of EVs.

As the company aligns its strategy with its previous endeavours, Hon Hai Technology Group (Foxconn) is planning its growth to match that of personal computers and mobile devices.

The Taiwanese technology group is growing exponentially, achieving revenue of US$215bn in 2021 for its smartphones, computers, and other electronics like games consoles, and robotics for industrial applications. Now the company has turned its attention to the EV market as it looks to dominate a significant portion of the industry with the in-house manufacturing of its latest products.

Producing EVs at home and shortening the supply chain
Foxconn unveiled a few exciting developments the company has been working on, including two new EVs—the Model B crossover hatchback and Model V all-terrain pickup truck. Alongside this announcement, the manufacturer also unveiled its self-developed HHEV.OS EV software platform that meets the highest automotive safety standards in software design today, and reduces integration time between software and hardware.
"The rapid development of Hon Hai in the field of electric vehicles is a continuation of the Group's growth and innovation," says Terry Gou, Founder of Hon Hai.
"In the past, we assisted global brand customers to transform the consumer electronics industry chain, step by step, providing consumers with extraordinary and affordable technology products. In the future, Hon Hai will certainly redefine the EV industry and provide drivers with safe and comfortable user experience in transportation."
Thanks to its unique position in the industry—with the Taiwanese firm in a suitable proximity to necessary technology components—the company's strategy is set on providing for three major growth areas. Its '3+3' strategy identifies EVs, digital health, and robotics as three industries with potential to scale to US$3tn with over 20% compound annual growth rate.
Focusing on its commitment to EV, the company released two new models to its line-up that provide a new perspective for two segments of the automotive industry. The first being its Model B, which meets the needs of an increasingly anxious consumer base. The car sports a drag coefficient of 0.26—0.02 difference from the Audi e-tron GT—and achieves a cruising range of 450km with a 2.6-metre wheelbase for a comfortable driving experience.
The company also unveiled its Model V, which adheres to the demands of a different market. The pickup truck has a payload of up to one tonne and is capable of towing three tonnes across various terrains.