Codename 'V21L': Ducati's cutting-edge electric motorcycle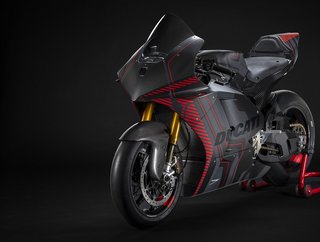 The Ducati V21L prototype for MotoE
The chosen machine for MotoE in 2023, the Ducati electric motorcycle prototype will pave the way for two-wheeled electrified Ducati motors in the future
Every motorsport needs the latest and greatest technology, but this motorcycle for the MotoE World Cup packs all the influential electrical systems into the lightest, most powerful body yet.
The Ducati prototype, given the codename 'V21L', was designed to break the boundaries of electric two-wheeled motorsport. In doing so, the organisation has developed something revolutionary, which will be showcased in a 15-minute power race alongside the MotoGP series.
Supplying 18 bikes for the track, Ducati's transition into electric motorcycle manufacturing starts here as the MotoE teams provide the ultimate showcase of its capabilities.
The battery
Weighing just 110 kg, the battery pack that has been used for the V21L prototype comprises 1,152 cylindrical cells and provides a capacity of 18 kWh with a 20 kW charging socket integrated into the rear of the motorcycle.
The liquid cooling system guarantees temperature regulation in extreme conditions, which is a critical factor for riding at high speeds in warmer climates across Europe—and globally in the future. As a result, the battery takes around 45 minutes to recharge to 80% of its range.
The body
Composed of carbon fibre and aluminium, the chassis of the vehicle is built to be lighter than ever before. The aluminium swingarm weighs 4.8kg and is designed to match the geometry of the Ducati Desmosedici racing in MotoGP.
The power
In order to shift its total weight of 225 kg (plus the rider), the V21L is capable of a maximum power output of 110 kW—equivalent to 150 horsepower—and achieves a torque figure of 140 Nm. The weight of the bike is 12 kg less than the minimum required by the Dorna Sport and the FIM for MotoE races.

Design and development of the next-generation MotoE machine
The development process all took place under the watchful eye of one of the most prestigious brands in the world. The team at Ducati Corse, led by Marco Palmerini, was responsible for developing the electronic components and systems of the V21L, including the software strategies and controls. The team leveraged a whole host of data from the dynamics simulations and aerodynamics analysis to create the final bike.
From a design perspective, this work was carried out by Centro Stile Ducati, and was inspired by and created for the MotoE race. The team was also involved in delivering the Ducati-branded livery.
Not only does this motorcycle represent a new era for electrification at the company, but also hails a new way of working, as various teams collaborated, resulting in an EV that will shape motorsport and its future commercial market endeavours.