BeWorks CEO leverages innovator visa to market EV charging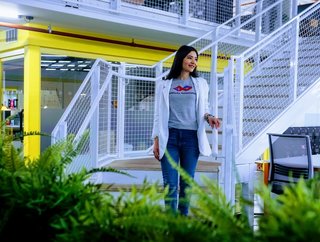 Fidan Javadova, Founder & CEO, BeWorks Automation
The Founder and CEO of BeWorks Automation, Fidan Javadova was awarded the innovator visa and secured funding for innovative new EV charging technology
The electric vehicle (EV) revolution was kickstarted by small initiatives to reach much larger goals. For this reason, it's important to recognise the achievements taking place in the industry with the potential to pave the way for new technologies and represent those who act as ambassadors of inclusivity.
As the Founder & CEO of BeWorks Automation, Fidan Javadova is a great example of a female cleantech entrepreneur tapping into the EV charging sector. As a young female migrating from Azerbaijan to the UK to study and work in London, Javadova tells us about her background, the experience she has had as a non-EU citizen travelling for a career, and how the Innovator Visa recognises her ability to transform components of the electrified vehicle industry.
Having secured endorsement from Emsworth Corporate Planning based in Portsmouth. Javadova now prepares to leverage £25,000 from a crowdfunding campaign that will help build a prototype for her accessible electric vehicle charger.
She also anticipates extra funding from Portsmouth City Council as a recognition for her work to a greener city, and is continuing towards early-stage funding.
Please could you tell us about your life and what led you here?
I come from a family of engineers, so at a young age, I was immersed in all kinds of robotic and engineering summer camps, as well as a ridiculous amount of Legos. I loved creating—anything, really. Pairing this creativity with a desire to help others, I began to realise that I could combine these loves into a lifelong, exciting career.
After nearly seven years of climbing the ladder in high-tech and innovative companies, I realised that while the cleantech start-up ecosystem in the UK continued to grow, businesses founded by women were still underrepresented, with fewer female-led businesses starting, scaling and securing finance. I also recognised that almost all the best startup ideas served as solutions to social problems. By that time, I had already been actively following the global trends in the industry. And then, I took a leap of faith and launched BeWorks, a cleantech engineering startup providing accessible electric vehicle charging and solar energy solutions.
Why did you choose to work in EV charging?
I think it's important to make sure that the EV charging infrastructure is reliable enough for people to switch over to EVs. There are just under 40,000 electric car charging points in the UK at the moment and monthly installations need to rise by 290% to meet the 300k target by 2030. Further analysis of today's figures shows that the current snail-paced growth in the nation's public charging network is failing to keep pace with the acceleration in electric vehicle registrations.
In my opinion, it's crucial to have a 'customer-centric' approach. In the concept & ideation stage of our EV chargepoint development, I organised targeted focus groups with mobility-impaired drivers and the elderly to really understand the challenges they had been facing and the reasons behind their hesitation to switch over to EVs. After conducting the necessary research, it became clear to me that having an inclusive EV charging infrastructure is a must.
Tell us about BeWorks Automation and EV challenges it actions
BeWorks was born out of the frustration from the fragmented charging experience, and we believe that there must be a universal approach to EV charging. Our mission is to provide an effortless charging experience to every single EV driver by manufacturing, operating, and growing the network of accessible EV charge points powered with solar energy and a user-friendly data analytics platform.
BeWorks Automation's focus is to solve the accessibility demands of customers, businesses, and drivers in the dynamic EV & renewables industry by offering smart and connected hardware and software products that anticipate future market needs.
BeWorks Automation's vision is to increase awareness and present itself as a catalyst for electric mobility and renewable energy across the UK and worldwide, offering innovative universal solutions that provide a positive impact for communities. The company is committed to accessibility, inclusivity, and innovation, and is currently running a crowdfunding campaign to develop an accessible EV charging station that delivers a universal benefit to the public, including the elderly and drivers with special needs.
What was your experience when sharing your idea?
As a non-EU citizen, I am the first female from Azerbaijan to obtain an Innovator Visa, which recognises my innovative, viable, and scalable business idea. Javadova's work in the green energy, electrification, and decarbonisation field was recognised by the British Council, who presented her with Her Majesty's Ambassador Award in 2021. Her Majesty's British Ambassador, James Sharp, named me as a role model for women in science and innovation in his speech.

In the past, I always felt that I had to prove myself more, as a woman, in this industry, but it shouldn't be this way. There were so many occasions when I was the only female in the room. Research from Women in Science and Engineering (WISE) has shown that only 14% of management positions in Science, Engineering and Technology (SET) are held by women. One of the biggest barriers to female leadership in this sector is that venture capital and finance remain male-dominated. Only 3% of venture capital partners are women and only 14% of start-up investors (also known as Business Angels) are women.

Only 1% of the female-led businesses received external capital in the UK last year. This is very discouraging, as there are so many bright females, in need of financial support, who are striving to positively change our world. I've found it beneficial to turn such challenges into learning and growth opportunities rather than taking them personally. A strong personal branding has led me into various circles of angel investors.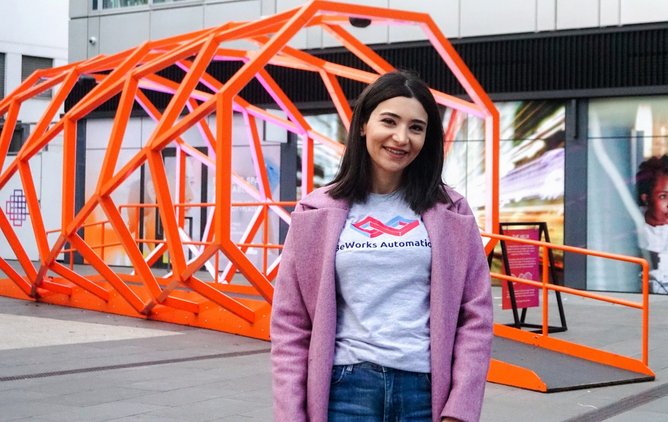 Fidan Javadova, Founder & CEO, BeWorks Automation
How will your presence support automotive electrification and DEI?
As we move towards an all-electric, zero-emissions future, it is essential to lead positive change and implement inclusive solutions that bring everyone along for the ride, especially vulnerable communities.
I believe that diversity is crucial in the clean energy sector, as we cannot tackle climate change with only half of the population's support. The clean energy industry is of growing importance, and to truly prosper, all talents, including female talent, must be mobilised and retained. There are a number of business models in the EV charging industry today, which leads to more collaboration opportunities between large corporations and startups who focus on a relatively 'niche' market. In this fast-growing market, startups' collaboration potential is huge.
This can be through network and technology sharing, where EV charging startups can collaborate by sharing their charging networks with each other. This will allow their customers to use the charging stations of partner companies, increasing their network coverage and convenience for EV drivers. BeWorks can also collaborate by sharing their technological know-how with other startups, such as software, hardware, and operational systems. This can help both parties streamline their operations and reduce costs.
What do you hope to achieve over the next 12 to 18 months?
My long-term vision is to make EV charging more accessible to those with mobility impairments and work to build the confidence and independence of those who are anxious about their ability to access EV charging in different settings. To achieve this, I plan to develop an assisted, fast EV charge point by integrating a retractable automated cable management system to be tested with the end-user in terms of accessibility and ease-of-use.
Our main goal is to finalise the accessible EV chargepoint prototype manufacture and to successfully deliver pilot projects for our partner organisations. Moving forward, we plan to work closely with the British Standards Institute (BSI) to ensure that all the accessibility standards have been considered prior to product commercialisation.
We have recently secured letters of intent from Portsmouth City Council and Isle of Wight Council, who are very interested in our concept of accessible charge points and would be happy to support us in development and as a potential user of the technology, subject to our development efforts.
In 6 months' time, once our prototype is complete, we look forward to registering the design rights with Intellectual Property Office (IPO). We plan to commercialise our accessible EV charge point coupled with a user-friendly data analytics platform and a mobile app in the next 8 months and we hope to maintain and expand our strategic partnerships with Innovate UK, academic institutions and disability organisations to maximise our projects' scope across the UK.