Tyres could save electric vehicle drivers miles at Christmas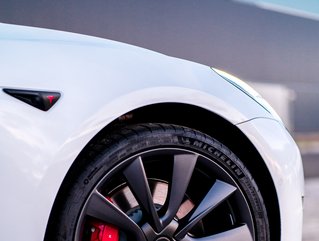 Energy prices are rising, but consumers could save money on travel by choosing the right tyres for their electric vehicles (EVs) thanks to Michelin survey
Energy saving is the talk among consumers this year as energy prices rise, making charging costs comparable with that of fuel prices.
According to the quality tyre manufacturer Michelin, drivers of electric vehicles (EVs) could save money by using EV-specific tyres. Analysis by the company suggests that drivers are unaware that such tyres exist, which presents a benefit to them.
Around 72% of drivers admit they didn't know about EV tyres and, as a result, Michelin says 8.3 million battery miles could be gained in the process, which is equivalent to 25.7 miles for each EV on the road.
Increasing EV efficiency over the holidays season
The first thought that springs to mind is cost. With living costs rising generally, the cost implications of higher quality tyres could put consumers off, but the investment could be returned in the form of miles.
John Howe, Managing Director for UK and Ireland at Michelin, said, "With the festive period in sight, everyone is thinking about how best to get home to visit their friends and relatives."
"Drivers are making this decision in the context of a cost-of-living crisis and continued train strikes, so are looking for any relief available to them."
Michelin is offering drivers specific tyres for their electric cars called the MICHELIN Pilot Sport EV and MICHELIN e.Primacy, which offer superior performance than generic tyres and are made for EVs. Over the coming weeks, the company will release the tyres in a hope to help to increase the efficiency of EV.
During more unpredictable winter conditions, the MICHELIN CrossClimate 2 and MICHELIN CrossClimate 2 SUV meet the needs of the ever growing trend—larger cars and higher power—especially as temperatures drop lower than previous years.
"EV-specific tyres offer a solution. Not only can they enhance battery range, allowing drivers to travel further per charge, but these tyres last longer on an electric car than a standard tyre," says Howe.
The conclusion comes after the company's survey that suggests only 28% of respondents were aware of EV tyres. Those in the UK city of London seemed to be the first to hear of them.