Recycling Lives promotes waste management with EV skip truck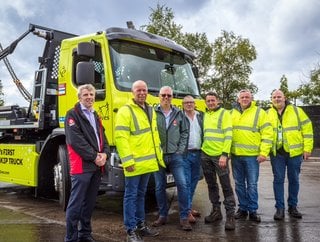 The SME Recycling Lives showcases its all-electric skip truck it hopes will raise sustainability questions among larger, global organisations adopting EVs
Waste management is a process under the sustainability umbrella that still plagues the planet. The UK industry alone has experienced significant fluctuations over the years with a reduction in recycling from households between 2018 and 2020 with further figures yet to be published.

That year only 44% of recyclable materials were disposed of properly in England, in Scotland this was less at 41%, Northern Ireland at 49%, and Wales topping the nations with a 56.5% recycling rate. The provisional figures for the UK suggest that 63.2% of UK packaging waste was recycled in 2021.

This suggests there is still a long way to go before consumption takes on a fully circular economy and Recycling Lives is an organisation in this field that is committed to increasing the recycling rate much further, but also providing social and economic benefits as well. The company is also undergoing further work to ensure the company's operations are sustainable, because reducing waste is one thing, but to eliminate it with little emissions contribution is the aim of the game.

Headquartered in Preston, UK, Recycling Lives announced in September its first electrification effort. The company's latest acquisition of two fully-electric skip trucks will provide the company with an opportunity to significantly reduce its emissions.

"This transition to electric skip trucks is just another example of our commitment to environmental innovation," says the company's CEO, Gerry Marshall.

"As part of our decarbonisation strategy, we are looking to further reduce our carbon footprint by using more sustainable fuel solutions, including for example, green hydrogen which is part of our Energy from Waste project."
EVs will make recycling more eco-friendly
The pair of 19-tonne Renault Trucks E-Tech DZEs are capable of completing a full day's work on a single charge and, thanks to being electric, create zero direct emissions. Each truck uses a 265kWh battery and is designed to hold a 22kW on-board AC charger that is compatible with DC fast-charging stations up to 150kW.

"It has been fantastic to work with Renault Trucks on such a critical product and we would like to thank them for all their support. Moving towards zero-carbon transport solutions is a huge business priority, and we're looking forward to getting these UK-first electric skip trucks on the road," says Marshall.

With such a solution comes global impact as Recycling Lives hopes to influence further organisations across the globe to take initiative and adopt more sustainable options for transporting waste materials.

"The hope is that others will be inspired into taking action when they see that a smaller company like Recycling Lives has found a way to go green with our transportation vehicles," says Marshall.

"By adopting the UK's first EV truck we are leading by example showing that EV can be a financially viable alternative to traditional diesel. Most importantly though, we are benefiting local communities and the wider environment with lower carbon emissions and less noise pollution."

As Recycling Lives prepares for a future with EVs in operation, the company is working on electrifying its fleet to become entirely electric as well as implementing other green solutions that are appropriate to the business, including cranes or articulating vehicles.