New battery chemistry ramps up Audi's Q4 charging speed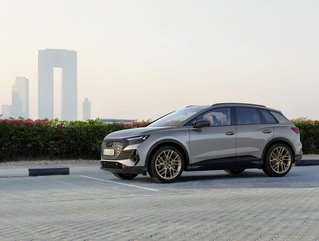 Credit: Audi | The latest version of the Audi Q4 e-tron EV with upgrade efficiency, battery charging, and intelligent systems for hardware longevity
Audi updates its electric SUV for efficiency while the EU poses tariffs for EVs that don't meet its localised sourcing requirements imposed by new rule
Just a week before news of updates to the Audi Q4 e-tron, it was featured in EV Magazine's 'Top 10: Executive Fleets for 2024'. The announcement by the company on the 21st September 2023 suggests the car may move along the rankings in months to come.
It seems Audi focused a lot of its attention on making its vehicles more suitable for everyday use, which is where the large battery capacity and improving charging speed comes into play.
Update battery-cell chemistry creates more efficiency in charging the Q4 e-tron as it is capable of power from 10% to 80% in around 28 minutes with the ideal conditions to work with. Of course, there are many factors to be considered in charging and electric vehicle (EV) range, such as the temperature and weather conditions, the charger in use, and driving style.
The battery of the Q4 e-tron provides 77kWh of net energy to the wheels and the Quattro model now achieves DC charging power of 175 kilowatts—or 135 kW for a rear-wheel drive model.
To prolong the life of its battery, the Q4 e-tron limits charging to 80%, and the vehicle leverages a smart route-planning system to make the journey as efficient as possible with faster charging in mind. The car also preempts the use of a high-power charger and preps the battery for DC charging using intelligent thermal battery management.
More efficiency from an upgraded EV drive system
Bringing more efficiency into the equation with a revamped permanently excited synchronous machine (PSM), which is to be fitted to all models of the Q4 e-tron. This enhancement will significantly improve the vehicle lineup and result in a boosted range and power delivery for its electric SUV models.
In performance terms, the rear-wheel drive versions of the Audi Q4 45 e-tron2 and the Audi Q4 Sportback 45 e-tron1 deliver 210 kW (286 PS) and can go from a standstill to 100 km/h (62 mph) in 6.7 seconds. On the other hand, the Audi Q4 45 e-tron quattro3 and the Audi Q4 Sportback 45 e-tron quattro4, both with 210 kW (286 PS), achieve the same speed in a slightly faster 6.6 seconds. The premium variants, namely the Audi Q4 55 e-tron quattro5 and the Audi Q4 Sportback 55 e-tron quattro6, boasting 250 kW (340 PS), sprint from zero to highway speed in just 5.4 seconds. All models now max out at a top speed of 180 km/h (112 mph).
News of changes in the European EV market
While efficiency is key, Audi, like many other EV brands, will soon be under the microscope for sourcing their batteries as the EU imposes regulations to disclose that all Europe-built EVs have locally sourced components. The new law is expected to come into play in January 2024, which puts organisations under significant pressure to source locally for their battery, technology, and all-round vehicle innovations.
If not, organisations will be charged 10% tariffs for import and export of vehicles in an effort to eliminate cheaply-built cars from entering or leaving the continent.
While car makers are pleading for this deadline to be pushed back, the result of new legislation could force them to reduce their output of new EVs. With limited resources for building cars with locally sourced materials, the task will likely limit the number of new EVs as factory capacity is nowhere near that of other regions.
Many car makers see this as a hindrance to their electrification targets and are concerned that tariffs will only slow the adoption of new energy vehicles. Despite organisations' best efforts to provide more efficient vehicles, they are burdened not by legal limitations, but by the lack of new resources for accelerating electrification.
******
EV Magazine is dedicated to creating a global community of businesses, experts, and EV enthusiasts with comprehensive insights into automotive and the surrounding sectors.
For more EV insights check out the latest edition of EV Magazine and be sure to follow us on LinkedIn & Twitter.
You may also be interested in Sustainability Magazine and Energy Digital Magazine.
*********************************************
BizClik is a global provider of B2B digital media platforms that cover Executive Communities for CEOs, CFOs, CMOs, Sustainability Leaders, Procurement & Supply Chain Leaders, Technology & AI Leaders, Cyber Leaders, FinTech & InsurTech Leaders as well as covering industries such as Manufacturing, Mining, Energy, EV, Construction, Healthcare + Food & Drink.
BizClik – based in London, Dubai, and New York – offers services such as Content Creation, Advertising & Sponsorship Solutions, Webinars & Events.