Top 10: Executive EV Fleets for 2024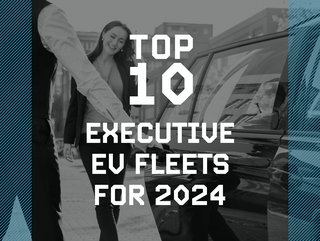 Top 10: Executive EV Fleets for 2024
EV Magazine selects 10 of the best executive electric cars to serve businesses with zero-emissions transport and form the commute of corporate passengers
How do you know whether a particular electric vehicle (EV) is right for your business?
There are a number of factors to consider in the pursuit of fleet decarbonisation and while the vehicle is one of them, charging infrastructure, agreements, and costs are to be taken into consideration before choosing a suitable vehicle.
There's an abundance of executive EVs out there in today's automotive industry, but there is something to be said for the 10 vehicles listed below that not only look the part but will provide suitable electrified benefits.
But, before we get into it, let's look at some of the considerations to be had when choosing an electric car for executive driving purposes.
How will you charge your EV fleet?
The key comment sitting upon the lips of many is 'how will I charge my EVs?'
Looking at a large number of options today, it's important to consider the requirements of the fleet before venturing into any conversations about charging infrastructure or strategy.
It's important to know how many vehicles you need. Based on that number there are further considerations, such as the frequency of use, the already-available services, the on-site space for potential charger installations, and the costs associated with these. These conversations should allow you to create a brief for the type of electric car required to fit the specification.
With a number of organisations delivering charging capabilities, it's also worth considering dealing with a consultant or expert in fleet charging to provide insight into the options that are available and at what costs.
The total cost of owning EVs
Speaking of cost, total cost of ownership (TCO) is to be considered, which takes a long-term view of the fleet and whether it would be feasible to buy or hire a fleet, or even switch at all. The benefit of leasing vehicles is that maintenance will be covered by the provider, but the usual contractual risks apply in that process.
This will also include some of the variable costs like the tariffs for charging cars, which is to be considered based on public or on-site charging. This is why it's also good to understand the range requirements of your vehicles.
With that all said, here are some of the top picks for electric fleet cars to prepare your business for decarbonisation in 2024.
10. Ford Mustang Mach-E
The Ford Mustang Mach-E marks Ford's ambitious entry into the all-electric SUV arena. Drawing inspiration from the legendary Mustang heritage, the Mach-E is a testament to both power and eco-friendliness. On one charge, its electric engine promises an enviable range of up to 379 miles. For enthusiasts seeking an exhilarating ride, the Mach-E GT emerges as the lineup's powerhouse, delivering a staggering 860 Nm of torque. This model exemplifies Ford's vision for the future, blending the time-honoured Mustang tradition with innovative electric advancements.

9. Kia EV6
The Kia EV6 has been recognised for its impressive safety standards, obtaining a five-star rating from Euro NCAP. It showcased commendable performance across various safety categories, particularly securing 90% for adult occupant protection. Aesthetically, the EV6 stands out with its pleasing design, complemented by top-notch quality.
Those fond of modern car technologies will appreciate its extensive feature set, which includes advanced ADAS. When it comes to performance, the RWD version of the Kia EV6 is equipped with a 226bhp motor that drives the rear wheels.

8. Audi Q4 e-tron
The Audi Q4 e-tron emerges as a standout choice for an executive fleet vehicle. Renowned for its refined driving experience, the Q4 e-tron offers a blend of comfort and sophistication that is fitting for professionals. With its electric powertrain, executives can benefit from the vehicle's instant acceleration while still enjoying a ride that remains smooth and polished. Embarking on longer business trips, the Q4 e-tron's real-world range of up to 270 miles ensures hassle-free travel.

7. Genesis Electric G80
The Genesis Electric G80 is a standout luxury electric model sedan, which represents a significant leap in automotive design and engineering. The car embodies a harmonious blend of iconic interior and exterior design to a high-end specification. This EV isn't just about aesthetics as it promises a grand driving experience with an equivalent power to 365 bhp and range of up to 262 miles per charge.

6. Volvo EX30
One of the latest models released into the public eye by Volvo, the EX30 opens a new automotive paradigm with safety and intelligence at the heart of its design. The company is now committed to achieving great things with digital technologies and leveraging artificial intelligence (AI) to evolve its safety trademark.
With a boot space of 400 litres the EX30 is a miniature version of its SUV cousins, which is not only sleek but practical for fleets looking to switch to EVs. The car is set to be delivered in 2025 and positioned alongside the brand's other electric models ready to offer comprehensive products to the automotive market.

5. Polestar 2
While Polestar is the sister brand to Volvo, its vehicle exudes a certain premium quality that is much-loved by those working in business. The Polestar 2 is expected to reach beyond 400 miles on a single charge and was recently upgraded with a smart bar on the front bumper to deliver similar great intelligence to its parent business.
Scandinavian automotive design seems to be a hit with a number of drivers, many of them in corporate roles and driving many miles to network and communicate with their suppliers and customers.

4. BMW iX
The BMW iX is a symbol of sophistication and is somewhat of a ground breaker for the company's latest style enhancements. Leveraging autonomous capabilities, the iX is a much larger vehicle than many of the others in the running, but doesn't compromise on the executive, and even luxury, feel.
Avoid being discouraged by the size of the iX as its state-of-the-art surround-camera system proves capable of delivering a much larger field of view for better visibility on the roads.

3. Mercedes EQC
Despite being an SUV, the Mercedes EQC is a suitable vehicle to replace a town car while also ticking the box for comfort. As with all vehicles, the EQC reflects the brand's unique style and showcases an optimal blend of electric range, in-car experience and premium refinement.
The EQC is built with a luxury cabin and sound system to enjoy the journey albeit near or far. Whether this vehicle is used as an executive pool car or the basis for a taxi fleet, the EQC garners premium attention and will serve the business customer with the ease of travel they need.
2. Jaguar i-Pace
The first of Jaguar Land Rover's EVs to roll off the production line. The Jaguar brand has been known to serve corporate customers and important premium fleets, but the i-Pace brings an element of this into its electrified future.
The i-Pace comes with a generous loading space of 656 litres without compromising on luxury craftsmanship and the sporty styling of the exterior.

1. Tesla Model 3
The Tesla Model 3 is a staple in society and a crucial EV in the electrification era. Renowned for simplicity, and great Tesla technologies and operability, the car achieves a 305-mile WLTP range with the option for 340 miles from its Long Range model.
Not only has the Model 3 proven itself a worthy consumer companion, but will also serve businesses with premium quality, reliability, and industry-leading performance in terms of range, power, and interior functions.
There's a reason why the Tesla Model 3 is a top choice globally!
******
EV Magazine is dedicated to creating a global community of businesses, experts, and EV enthusiasts with comprehensive insights into automotive and the surrounding sectors.
For more EV insights check out the latest edition of EV Magazine and be sure to follow us on LinkedIn & Twitter.
You may also be interested in Sustainability Magazine and Energy Digital Magazine.
*********************************************
BizClik is a global provider of B2B digital media platforms that cover Executive Communities for CEOs, CFOs, CMOs, Sustainability Leaders, Procurement & Supply Chain Leaders, Technology & AI Leaders, Cyber Leaders, FinTech & InsurTech Leaders as well as covering industries such as Manufacturing, Mining, Energy, EV, Construction, Healthcare + Food & Drink.
BizClik – based in London, Dubai, and New York – offers services such as Content Creation, Advertising & Sponsorship Solutions, Webinars & Events.