EY versus climate: Extreme E's latest sustainability report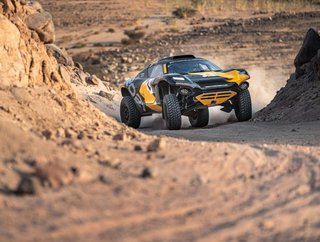 Extreme E releases sustainability report for Season 2
In support of the world's first sustainable off-road EV motorsport, EY's coverage of Extreme E's achievements shows promise for climate change action
The aim of electrification is to not only reduce emissions, but allow the automotive industry to coincide with the environment for generations to come. The industry is aware that there are various issues concerning the environment, which are inherent in car manufacturing, operation, and end-of-life processes.
What Extreme E set out to do is change the narrative of motorsport, but also act as a breeding ground for innovation in the industry and enable companies to test solutions that will be adopted industry-wide. Following the second season, Extreme E teamed up with EY consulting to produce its all-encompassing sustainability report, highlighting the achievements of the teams and supporting partners as they travelled the globe to battle it out in some of the world's toughest racing environments.
The key areas measured in the report are electrification, environment, equality, and entertainment—all key components of a sustainable motorsport in keeping with global environmental, social, and governance (ESG).
Since inception, the teams operated on a carbon-neutral basis and also completed its first carbon-neutral in the second season. The report provides a great insight into the mission and strategy of Extreme E and includes a number of the UN Sustainable Development Goals (SDGs).
Much of the achievement is linked to the ocean conservation, which is where the team works with leading experts in this space, including Principal Scientist, Nekton Foundation, University of Exeter, Professor Lucy Woodall, who says in the report:
"Marine biology and rallying are very rarely, if ever, seen together in the same sentence. For me, joining these two areas, that at first glance are so far apart, is a key feature of the value of Extreme E Sustainability by its very definition means long-term action and this is most robust when a range of sectors are fully engaged."
Partnerships backing the electrified off-road motorsport
The success of Extreme E in its second season is also attributed partly to its collaborations with leading organisations, covering tasks from fire protection to community engagement.
Working with Vodafone, the team implemented solutions to enable ultra-early fire detection in Sennariolo, Sardinia, which is enabled by its long-life Low Power Wide Area Network (LPWAN) sensors, which provide a low-cost method of detecting harmful gases using IoT.
From a community standpoint, Allianz supported a legacy project in Senegal, where the Ocean X Prix took place, and led engagement projects to enable Empire des Enfants and some of its drivers to explore the marine environment.
Emissions reduction success
Looking at the numbers, the sustainability report shows the inputs made by Extreme E to reduce emissions, and the resulting effects. According to EY's analysis, the total emissions of 9,045 tonnes of carbon dioxide equivalent (tCO2e) was spread across all Scopes.
86.1% of all emissions were attributed to Freight, delivering vehicles and infrastructure to the locations. Meanwhile, staff emissions accounted for 11.6% (1,046 tCO2e), and operations a further 1.5% (133 tCO2e). To remain carbon neutral, Extreme E works with ALLCOT to offset all of its remaining emissions, but these figures still highlight the key areas in which industries are contributing to the overall atmospheric emissions.
Plans for Season 3 of Extreme E
The race continues and there is more excitement to come from the FIA as Extreme E sets its sights on Scotland, Italy, Saudi Arabia, and Chile for its Season 3 races. In 2023 stakeholders will see more collaboration with its Scientific Partner, Enel Foundation, to use its St Helena laboratory for more climate research.
Alongside this racing season, the team will showcase the power of hydrogen as Extreme H Championship takes the track.
"Extreme E is not your average motorsport. We utilise the inspiring platform sport provides to tell engaging stories on global issues, from carbon emissions, to Arctic ice melt, deforestation, and ocean health, to energy and technology innovations, all with a community-first, solution-based lens," says Julia Wall-Clarke, Head of Impact and Communications.