Continental Tyres recycles Extreme E for a basketball court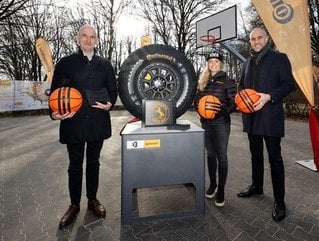 Partner of the sustainable racing initiative, Continental Tyres opened a basketball court made entirely of rubber from Extreme E off road motorsport tyres
Having recently covered Extreme E and the Odyssey 21 electric vehicle (EV), the sustainability-driven motorsport is embarking on sustainable legacy projects to encourage circularity of motorsport and automotive components.

Discovering a new way to utilise waste components from its electric racing series, Extreme E's founding partner Continental was responsible for the project as the first of its kind.

The tyres used for the basketball court, built in the Linden-Süd district of Hanover, Germany, were originally used for racing in Saudi Arabia, Greenland, and Senegal, and are now supporting the youth population in the area, bringing an exciting new sports facility.
"We're delighted that the Extreme E tyres are getting a second life after the end of their racing career," says Christian Kötz, Member of the Executive Board Tires at Continental.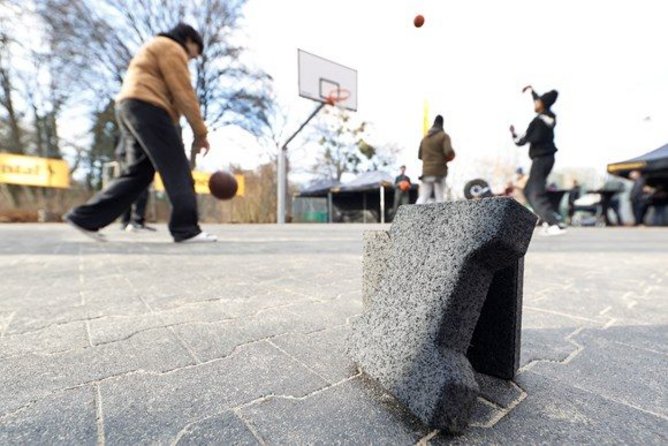 "Circularity—in this case the reuse and continued use of tyres—is an important area, and one in which Continental is working hard."
Sustainable tyres for pioneering off road electric motorsport
The partnership between Extreme E and Continental resulted in the development of its latest generation tyre, the pioneering CrossContact off road racing tyre, which is now made from recycled PET bottles combined with a new silica material created from rice husks—waste product from agricultural processes.
"We are delighted with this initiative from our partner Continental, which pushes the boundaries of how we can repurpose resources in a way that will benefit so many people," says Ali Russel, Chief Market Officer at Extreme E.
"Over the past two Extreme E season campaigns, it has become clear that both creative thinking and a great deal of ingenuity is required to deliver the solutions necessary to combat the climate crisis. This fantastic initiative certainly achieves that."
The Mayor of Hanover also commented on the project completion, which will provide young people a high-level basketball court and pave the way for similar projects.
"We would like to thank Continental and all those involved for this new basketball court, which creates a new space for kids and young people and brings sport and sustainability together in the same conversation," says Mayor Belit Onay.
"Initiatives like this show what is possible when so many people help to turn a community project into reality in our city. I'm grateful for all their contributions."
More on Extreme E's sustainable racing legacy
Extreme E's initiative goes beyond motorsport as the team works with leading scientific experts to carry region-specific research in its race locations to come up with environmental and social projects to undergo in the process of racing at remote venues across the globe.
We were able to get in touch with various partners and stakeholders of Extreme E in an exclusive, in-depth feature on the motorsport. Find out more about the organisation and those supporting the teams involved in the off road racing championship in the December issue of EV Magazine.