Zapp Electric Vehicles takes e-moped business to Thailand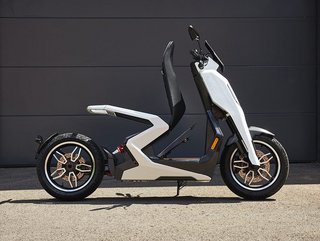 Expanding its international business, Zapp Electric Vehicles Limited is expanding its reach, including Bangkok, Thailand, in its two-wheel EV footprint
Southeast Asia is going to be the home of a new Design and technology Campus owned by Zapp Electric Vehicles Limited. The UK-based company specialises in high-performance two-wheel EVs—e-mopeds—and is looking to reach international markets.
The company announced the facility will be based in Bangkok, Thailand—known as the heart of the country's automotive and technology ecosystem. This marks Zapp's second global facility as the firm currently operates a Customer Experience Centre & Global Training Centre for dealerships selling Zapp EVs.
"Our new Design and Technology Campus is a significant milestone in our strategy to deliver high-performance electric vehicles to customers around the world. Being located near the Bangkok Cybertech District and in the automotive manufacturing hub of Thailand gives us access to experienced motorcycle engineering talent and supply chain expertise in one of Southeast Asia's largest motorcycle markets," says Swin Chatsuwan, Founder and Chief Executive Officer of Zapp.
Why the micro-mobility business is so important
The way people move around in cities is changing and more commuters are looking for cheaper, small, more convenient ways to travel around cities. Actually, they perhaps weren't looking for micro-mobility to solve their problem, but through shared mobility services and product offerings, customers have now grown to love the idea.

But, in a country like Thailand, in the East, micro-mobility is already commonplace but on a less sustainable premise. In 2021, there were more than 21 million registered two-wheeled vehicles in Thailand. From 2019 to 2020, e-mopeds dominated the Thai micro-mobility market and are expected to hold their dominance as sustainable mobility is encouraged globally.

"Our team of designers and engineers has already designed and developed our award-winning i300 and will look to shape the future of the two-wheel electric vehicle market through an exciting pipeline of new Zapp high-performance vehicles."

The Zapp e-moped is one that boasts great credentials to suit those nipping around the busy streets of Bangkok—and other international cities for that matter. Its peak power of 14kW and 587 newton metres (Nm) of torque provide the user with a 0 to 50 km/h acceleration of 2.35 seconds. The company boasts superbike-like performance in a package that starts from £4,796.

The components used in the e-moped are very minimal, but have been refined to provide the user with the best possible performance, including:
A single-piece, aerospace-grade aluminium chassis, which is made to be ultra lightweight
An Internal Permanent Magnet Motor, which is key for its incredibly high torque
Ultra slim batteries to double up and increase the e-moped range to 90 km
A carbon fibre belt provides power to the rear wheel
And low-profile, wide tyres provide users with the ultimate handling experience
To find out more about micro-mobility and why it's such a critical component of sustainable mobility, you can read our feature on electric motorcycles in the October issue of EV Magazine. Or, subscribe to our newsletter to find out about our upcoming issue.